Fixies, also known as fixed-gear bikes come in variety of sizes suitable for people of different heights. Most fixie bicycles are sized similar to road bikes, that is, they are measured in centimeter (length of the seat tube). However, some manufacturers like Schwinn measure their fixies according to the diameter of the bicycle wheels.
Fixies are single speed, have no gears, are robust, fast, and require less maintenance. They are one of the oldest and simplest bicycle types, gaining a lot of popularity nowadays for their looks and benefits. Technically, a fixie or a fixed-gear bike works by turning the back wheel which is attached to the cog and the pedals. When you pedal, the rare wheel rotates, be it backward or forward.
Fixie bike size chart
Fixie frames are measured similarly as adult bicycles – distance from crank axle centre to the top of the seat tube. Below are the recommended pixie bicycle sizes by height and inseam:
| Height | Inseam (Min.) | Fixie Size (Frame) |
| --- | --- | --- |
| 4'10"-5'1″ | 30″ | 46-47cm (XXS) |
| 5'1″-5'6″ | 31.1″ | 50cm (XS) |
| 5'6″-5'11" | 31.6″ | 52-54cm (S) |
| 5'9″-6'0″ | 31.9″ | 55cm (M) |
| 5'11"-6'3″ | 33.4″ | 58-59cm (L) |
| 6'1″-6'7″ | 34.2″ | 61-62cm (XL) |
In case you don't know what inseam is or how to measure it, see Bicycle Size By Inseam.
Fixed gear bike wheel size
A few brands may measure pixies like kids' bicycles, that is, according to the diameter of the wheels. Have a look at the fixed-gear bike sizing by wheels:
| Rider Height | Fixie Size (Wheel) |
| --- | --- |
| 4'8″-5'0″ | 24″ |
| 5'0″-5'5″ | 26″ |
| 5'4″-5'8″ | 27.5″ |
| 5'7″-5'10" | 28″ or 700c |
| 5'10" + | 29″ |
To know more about the bicycle geometry and measurement, see Bicycle Sizing Guide.
Fixie pros and cons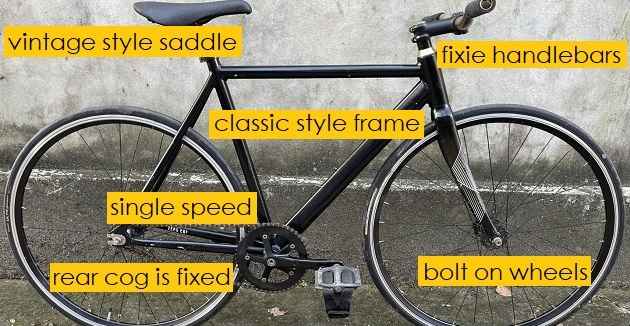 Fixie is simple to operate and has that classic look. It is quite popular in cities like Amsterdam and Barcelona. Also, it's considered best for cruising around the beach and sea-side areas. Let's discuss the pros and cons of a fixie bicycle.
| ADVANTAGES | DISADVANTAGES |
| --- | --- |
| Low-maintenance: Fixies have no derailleurs/gears, shifters, disc brakes, and other high-end parts. Thus, it needs little to no efforts to maintain. | Can be tiring on long distance ride: As there is no coasting, it can be exhausting for cyclists who are used to freewheels. |
| Gives more exercise: A fixie has only one gear, which means you'll always have to pedal to keep it running. So, more strength and muscle work is required, and it obviously builds up your strength, cardio-fitness, endurance, etc. | Not ideal for different terrain types: Fixies are meant for flat terrains. So, there can be challenges when riding on the zig-zag surfaces like rocky and sandy surfaces. |
| Lasts longer: No high-end components, cables, and running parts. This makes fixie robust and it has longer life span than most conventional bicycles. | Driving up-hill is a big task: Going up-hill needs constant pedalling, making it really hard for the cyclists to do so. |
| Fast and agile: With fixed-gear bike, you can easily turn around quickly and ride around in cities and other urban places. | Poor stopping power: When it comes to emergency or fast braking, pixie isn't so reliable. I advise you to practice first and don't forget to wear protective gears like bike helmets. |
| Cheap with minimalistic design: Fixies are quite affordable when compared to MTBs, gravel bikes, and others. They can be easily modified and they have that minimalist look. Also, they are always trendy throughout the years. | |
People also ask
1. What's the difference between a fixie and a road bike?
The main difference is that a fixie has a single gear while a road bike has many gears. A fixie has a fewer components, parts, and is much lighter than a road bike. Fixies are less expensive and are much better when it comes to city commuting.
2. Is fixie sizing different from other regular bicycles?
No, fixies are sized just like mountain, hybrid, gravel, road, or any other adult bicycles. Manufacturers measure and label their bicycles either in metric (cm) or imperial (inches). You may also find fixies in alpha sizing like 'Small' or 'Large'.
3. Is fixie better than geared?
The answer depends on your riding style and preferences. For bicycle enthusiasts who would want to explore and ride on hilly, rocky, and different terrains, a geared bicycle is definitely the winner. For leisure riding, commuting, and rocking on flat surfaces, a fixie should be a better choice from my personal experience.
4. What size of fixie should I get?
Your fixie frame size depends on your height and inseam. If you are under 155cm (5 feet 1 inch), a 46/47cm size would fit. For a 155-168cm tall man and woman, 50cm size should be a great choice. For riders above 168cm (5 feet 6 inches), opt for 51cm+ frame. Brands have their own sizing. So, the best bet is to go through the geometry and sizing chart of the particular fixie model you are interested in.
Conclusion
With simpler design, looks, and components, fixies are really efficient for riding on flat surfaces. They are fast, cost-effective, and last for ages with less maintenance. For a comfortable and smooth riding experience, choosing a fixie size that perfectly fits your height and body structure is crucial. Otherwise, it will overall kill the fun and excitement of cycling, and may cause knee pain. The above charts are all you need in finding the ideal sized fixie!