Bike boxes or travel bike bags are available in a variety of sizes and shapes. They can be made of plastic, nylon, aluminum, or cardboard. The standard size of a cardboard bike box for shipping or carrying on a plane as a luggage is 43″ x 11″ x 32″ (L x W x H). However, there are bigger sizes as well, like the FedEx biking box which has a dimension of 54″ x 8″ x 28″ (137 × 20 × 64cm).
Most bikes will fit in the standard size box, but for larger bicycles like 29er mountain bikes, or if you don't like to remove the rear wheel or handlebar and stem while packing, you'll be needing a bigger sized box, such as the 56″ x 21″ x 32″ one.
Since you are here, you might be shipping or taking your bicycle on a plane, right? In that case, I'll first look into the bicycle policies of the courier and the airline. They do have their own regulations and also their own maximum box size and weight you can take.
Anyways, below is the common bike box dimensions as per bike types and courier companies.
Bike box dimensions/size chart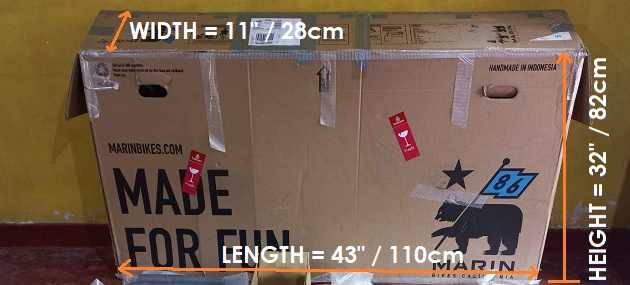 Here are the common bike box sizes you'll find. I recommend you not to go beyond the FedEx bike box dimensions. Otherwise, you will be charged extra fees or many not be accepted by the carriers. Also, note that a cardboard bike box can weigh around 9 to 20 pounds (4-9kg). So, the total shipping weight will be – cardboard weight + packing materials + bike weight.
| TYPE | BIKE BOX SIZE (in) | BIKE BOX SIZE (cm) |
| --- | --- | --- |
| FedEx Size – fits most bikes | 54″ x 8″ x 28″ | 137 × 20 × 64cm |
| Standard Size (L) – fits most bikes | 43″ x 11″ x 32″ | 110 x 28 x 82cm |
| Kids Bike/BMX/Framesets (S) | 43″ x 10″ x 24″ | 109 x 25 x 61cm |
| Gravel/Road/Small MTBs (M) | 42″ x 12″ x 30″ | 114 x 31 x 76cm |
| Bikes with rear wheel on (XL) | 62″ x 13″ x 33″ | 158 x 33 x 84cm |
| Bikes with handlebar/stem on (XL) | 56″ x 21″ x 32″ | 142 x 53 x 81cm |
Last four are recommended sizes by BikeFlights (BB)
Maximum bike box size and weight limit for airlines
Airlines have their own rules and requirements for carrying a bicycle on their plane. Most of them will ask you to dismantle and pack the bicycle parts in a proper bag or box following their maximum linear size/dimensions (length + width + height) and weight capacity policy. Below is the biking box size and weight limit for major airlines around the world.
| AIRLINES | MAX LINEAR SIZE | MAX WEIGHT |
| --- | --- | --- |
| American Airlines | 126 inch/320cm | 70lbs/45kg |
| Delta | 115 inch/292cm (doesn't accept above this) | 50lbs/23kg |
| British Airways | 138 inch/350cm | 50lbs/23kg (extra charge above this) |
| Air Canada | 115 inch/292cm | 70lbs/32kg |
| Air France | 118 inch/300cm | 70lbs/32kg |
| Emirates | 118 inch/300cm | 77lbs/35kg (may vary according to class) |
| Lufthansa | 110 inch/280cm | 50lbs/23kg |
| EasyJet | Not mentioned | 70lbs/32kg |
| JetBlue | 80 inch/157cm | 50lbs/23kg (no fee below this weight) |
| Virgin Atlantic | Not mentioned | 50lbs/23kg |
| Qantas | 99 inch/250cm | 70lbs/32kg |
| Ryanair | Not mentioned | 66lbs/30kg |
| Southwest | 62 inch/15cm | 50bs/23kg (excess weight/size fees may apply) |
| EVA Air | 109 inch/109cm | 50bs/23kg (overweight charge may apply) |
| Singapore Airlines | 139 inch/355cm | 70lbs/32kg (overweight may be considered as cargo) |
Variety of bike boxes

Usually, there are three bicycle box varieties – soft-shelled bag, hard case, and cardboard box. All three are made of different materials and have their own pros and cons. If you are someone who regularly travels or flies with a bike, it's worth shelling out a few dollars for a dedicated bicycle case. Otherwise, a humble carboard box should be an ideal choice for others.
| CARDBOARD BOX | HARD CASE | SOFT BIKE BAG |
| --- | --- | --- |
| Light, cheap, and easy to find | Heavy, but the lighter ones are expensive | Soft-shelled bicycle bags are lighter and much cheaper |
| Available for free at airports, local bicycle shops | Sturdy, protective, easy to pack and carry | Has lots of space and can fold and store it when not in use |
| Recyclable – can dispose it after use | Long lasting and can fit most bike sizes and genres | Not ideal for shipping purpose |
| Not really protective as hard bike case | Can carry around in your car as well | Can easily load into a car, trucks, and provides great protection while travelling by train or plane |
Packing bike in a box – tips and airline policies
If you would like to ship or fly your bike to your travel destination without getting damaged, it should be properly packed in a bicycle box. Depending on the bike bag/case you'll be using, you need to disassemble the bicycle accordingly. For a cardboard box, removing only a few parts like pedals, rear wheel, handlebar, etc. will suffice.
Following are some bike packing tips from cycling gurus and airlines:
Remove the derailleur, wrap it in a cloth and put it in a safer area.
Remove the skewers out of the wheels.
Deflate the tires.
Remove paddles, racks, fenders, front wheel, and the handlebar.
Wrap the frame using rag, foam, or anything you like.
Detach the seat or lower the saddle.
You can remove the front wheel disc or protect it using a rug/cardboard.
To avoid scratches from rubbing and bouncing, tape everything as one unit using duct or electrical tape.
Fill all the remaining spaces in the box using foam peanuts or bubble wraps.
Finally, make sure there is no rubbing between the parts.
PRO TIPS from my side: carry an extra packing tape because the airline may ask you to open it for inspection. And if you are carrying a really expensive bike, I won't mind pasting a photo of TV in the box. The airline staff will think it's fragile and they will handle it with extra care. :-)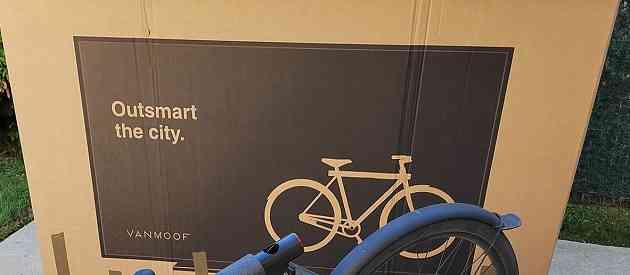 In conclusion
43″ x 11″ x 32″ would be considered a standard size (Large) for a bicycle cardboard box. It can house most types of bicycles and wheel sizes, and is accepted by many shipping companies and airlines. That being said, you should always check out the guidelines of the carriers beforehand. Some may not allow to go above 115″ dimensions or linear size, like the Delta Airlines.
If you frequently travel by car or fly with your bike, consider getting a dedicated bicycle box. For shipping, a simple bicycle cardboard box from a local bike store is conveniently enough to protect your bike from getting damaged.