Kids bike helmets are sized as per the circumference of the rider's head. The measurement can be in centimetres, inches, or general sizing like Small and Medium, as per the manufacturer. When you find a helmet in the market with 54-57cm size, it means the helmet fits children with a head circumference in that range.
What if you find a helmet with vague or alpha sizing, such as 3+, XS, or XL? In that case, I will always recommend you to look for the head circumference range given. Because, that's the best way to decide the accurate helmet size.
Youth bicycle helmets come in variety of designs, sizes, and materials. Buying a comfortable, fitting helmet for your child is really important. Otherwise, it won't serve the purpose of protecting the child's head during crash (God forbid).
First step – measure your child's head circumference
Choose a child's helmet based not only on age, but also on head size,. A head circumference is the widest part of the head and below is how your measure it –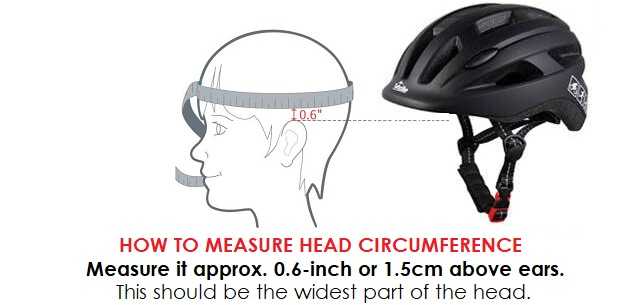 Get a soft measuring tape that's non-stretchable.
Wrap the tape around the head; 1.5 centimetres above the ears (see above image).
Basically, you need to wrap the tape at the largest area of the kid's head (which is slightly above the ears and eyebrows).
Measure it two or three times and finalize the accurate number accordingly.
If you don't have a flexible, non-stretchable tape at home, you can use a thread or string instead. Then, lay the thread flat on a surface and measure it using a ruler.
Voila! Now, you know which size bicycle helmet you should get for your kiddo.
Bike helmet sizes by age & head circumference
Helmet size = head circumference
| AGE | HELMET SIZE (cm) | HELMET SIZE (in) |
| --- | --- | --- |
| Up to 3 Years (Infant) | 44 – 50cm | 17.3″ – 19.6″ |
| 3 – 5 (Toddler) | 48 – 52cm | 18.9″ – 20.5″ |
| 5 – 8 (Child) | 50 – 54cm | 17.3″ – 21.2″ |
| 8 – 14 (Youth) | 54 – 58cm | 21.2″ – 22.8″ |
| 14 + / Adults | 58 – 62cm | 22.8″ – 24.4″ |
If your child's head circumference falls between sizes, go for the larger one.
Other things to consider in a kids bike helmet
SIZE is king, but there are a few other things a parent should also consider in choosing a kid's or toddler's bicycle helmet.
1. Safety – CPSC sticker/MIPS

Helmets sold in the United States must meet the CPSC (Consumer Product Safety Commission) requirements and come with a CPSC certified sticker. This means that all the helmets, whether cheap or expensive, are safe to use. If you want a more safer helmet, you can opt for the one with MIPS (Multi-Directional Protective System) technology. This type of helmet is equipped with extra protection layer, thus it is much costlier than the normal one. But note that the safest helmet is the one that fits well in your child's head.
2. Weight – go for the lighter one
Heavy helmets can be uncomfortable and tiring for the little ones. They may even refuse to wear it. So, look out for a sturdy and lightweight helmet that won't strain the tender neck of your young child. For neighbourhood rides on paved surfaces, a standard bicycle helmet is an appropriate option as it weighs lesser than a full-face helmet. For naughty boys who are into aggressive riding and mountain biking, you can consider a full-face helmet for better protection.
3. Buckle type – traditional vs magnetic

Some expensive bike helmets come with magnetic buckles, which are best suitable for young kids. They are pinch-free and can be unbuckled easily with one hand. Helmets with traditional buckles on the other hand can pinch a kid's chin or neck. However, they are more common and cheaper. In my opinion, it's not worth investing extra dollars on a magnetic buckle for 5-year-old plus kids.
People also ask
What age is 48 to 52 cm helmet?
A 48-52cm helmet size would be ideal for toddlers and kids who are three to five years old. Children within this age group usually have a head circumference of 48 to 52 centimetres (17.3″ – 19.6″). For children under three years, a helmet sized 50cm or under will be an excellent choice.
What size bike helmet is for a 9 year old?
A 9-year-old boy or a girl has an average head circumference of 54 to 58cm (21.2″ – 22.8″). Therefore, a youth's bike helmet sized 54-58cm would be an excellent choice. Youth helmets are often sized as MEDIUM by most manufacturers.
What size helmet is for a 4 year old boy?
There isn't any difference between a girl's and a boy's bicycle helmet. For a 4-year-old boy, you should look for a toddler helmet, with a size or head circumference of 48-52cm.
Closing thought
Choosing a right sized helmet for your little buddy is necessary for comfort, maximum protection, and safety. Apart from desired style and color, you should also emphasize on a helmet's fit because a helmet with proper fitting can avoid the chances of head injury during bicycle related accidents. Fortunately, whether cheap or expensive, all bicycle helmets found in the United States are CPSC certified. It means they all are safe to use and offer great protection during impacts.