The best part about cycling is that it can be done by anyone, irrespective of weight or anything. Many might think that cycling is beyond the reach of overweight women, but there are tremendous range of bikes specially designed for plus-size women.
Before purchasing a bike, you really need to be very clear with your motive of buying a bike? Is it for a casual stroll, a weight-loss journey, or is it for daily commuting? These are my questions as there are different bikes for different purposes when it comes to big ladies.
However, regardless of the reason, you will require a bike that can take care of your body with total comfort. There are numerous bicycles available in the market and finding the one that can accommodate your size and weight can be time consuming. Worry no more, as I have handpicked the 6 best plus size women's bikes you can rely on. Later, I'll explain what makes a bicycle perfect for a slightly overweight female.
6 best plus size women's bikes
1. sixthreezero Around The Block Women's Beach Cruiser Bike (26″)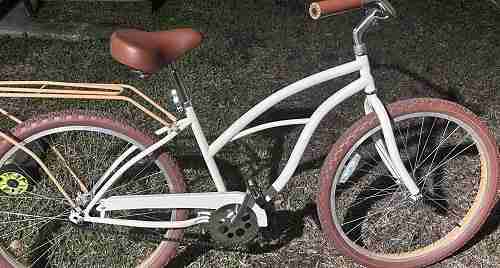 The first thing that impressed me about this Women's Beach Cruiser Bike by sixthreezero brand is its positive user reviews. With thousands of 4+ ratings, this bike is ergonomically designed for women ensuring safety and comfort. As a cruiser bike, it comes with upright riding position and perfect geometry and frame for long relaxing ride.
However, you may find the handlebars big and wide, but chill! you'll get it used to it after a couple of rides. This beach cruiser is an entry-level bike without compromising much on its performance, quality, and looks. The bicycle is slightly heavier weighing around 34lbs because of the rack, steel frame, and other components. But, is it durable? YES!
Just like other similar models from the brand like EVRYjourney and RideInThePark, the bicycle isn't built for off-road riding or racing. It's ideal for casual rides, cruising along the beach, commuting, and so on. Available in different colors and speed options, you can choose any according to your budget and needs.
What makes it ideal for a plus-size woman:
Step-through frame design
Alloy steel frame & aluminum wheels with wide tire
Perfect geometry for women with bad backs & knees
Wide cushioned saddle made with high density foam
Weight limit – 300 lbs (as per users)
Rider height range: 5'0″ – 6'0″ (152 – 183cm)
2. Firmstrong Urban Lady Beach Cruiser Bicycle (26-inch)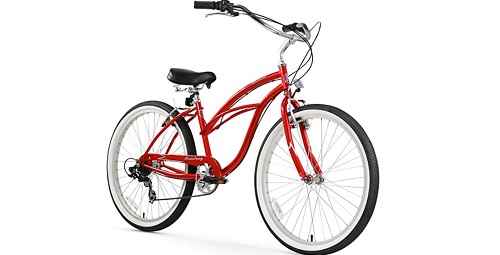 A close competitor of sixthreezero Around The Block Women's Cruiser Bike with similar designs and features, the Firmstrong Urban Lady Cruiser bicycle is another cheaper option for plus-size ladies. Firmstrong is a brand that focuses on making affordable bikes. Hence, their bicycles are less expensive than the rest.
How about the quality? I would say their bicycles are neither amazing nor great. But, a cruiser bicycle under $400 is good deal for someone who is on a limited budget. The cruiser weighs around 38lbs and comes with alloy steel frame and spokes, aluminum wheel, wide spring saddle, over-sized seat, and 2.125″ tires.
All these features make Firmstrong Urban Lady a good cruiser bike for 300lbs woman. The model is offered in multiple frame and wheel sizes for riders of different heights. Pick the one that suits your height.
Why is it ideal for an overweight female:
Maximum weight capacity – 300lbs
Steel frame and spokes, alloy rims
Dual spring saddle/big seat
26″ rider height range: 5'0″ – 6'0″
25.4mm x 350mm steel seat post
Coaster brake and 2.125 inch tires
3. Schwinn High Timber Youth/Adult Mountain Bike
High Timber is a popular model from the house of Schwinn, the manufacturer of Mongoose bikes. Schwinn High Timber is an entry-level mountain bike and it has a lot to offer for the big ladies who like to explore all kinds of terrains. First of all, High Timber has about five wheel sizes with either steel or aluminum frame. So, an ideal size would depend on your height.
The bike is equipped with 21 speed twist shifters that make changing gears fast and simple. It has suspension fork, knobby tires with strong grip and stability, which make the ride comfortable on rocky and tough trails.
The High Timber bikes have different features. Some of them come with disc brakes while some have linear pull brakes. Also, the frame material differs according to the model. It's confusing for the beginners. But anyways, it gives buyers the option to choose the MTB according to their purpose and how much they are willing to spend on a bike.
Why is it a good MTB for plus size riders?
Knobby tires for smooth riding
Disc/pull Brakes for quick stops
Sturdy, durable frames, and front suspension fork
Shimano Revoshift gear shifter with 21 speeds
Max weight limit for 26″/above 26″ – 250lbs
4. Schwinn Wayfarer Adult Hybrid Bike
Another budget option from Schwinn! Let's admit it, Wayfarer isn't a top-notch bike and it won't perform similarly like a TREK or SPECIALIZED hybrid bike. However, considering its cost tag, it's a decent bike offering comfortable riding experience with easy shifting of gears.
Schwinn Wayfarer is available in two frame styles (stay-over and step-through) and sizes (16-inch and 18-inch). Many women praise the retro style of the bike and its retro colors. Whether you are driving up hill, through the park, or just fun riding and commuting, Wayfarer can handle it all smoothly.
If maintained properly, Wayfarer would last for many years. Also, it comes with lifetime warranty and can be easily assembled. With 1k+ positive ratings, I don't think Wayfarer will disappoint you.
Why is Wayfarer a good choice for curvy, thick lady?
Upright riding position – your back will thank you
Step-through frame – designed specifically for women's bodies structures
Recommended max weight limit – 250 pounds
Steel frame and fork – can support heavy loads
Front and rear linear pull brakes
700c tires with Shimano rear derailleur
Wide padded seat – spring loaded
5. Marin Larkspur 1 650B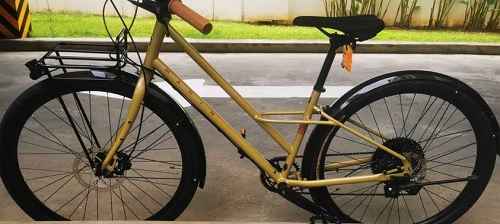 I'd say Marin Larkspur 1 is a commuting monster – cool, sturdy, comfortable, and it's beautifully designed with wide tire clearance. It's the most expensive bike on our list, but no one regrets buying this beast. Marin Larkspur 1 will offer you the best bang for the buck.
This solid all-rounder bike from Marin has unique step-through design with steel frame, double wall rims with wide puncture protection 27.5 x 2.35″ tires, low standover height, and Tektro hydraulic disc brakes. It has the right geometry and all the essential features a great plus-size woman's bike must have.
Whether you are riding 20 miles a day to work or hitting the unpaved roads for an adventurous ride, or going for family trip with kids, the Larkspur will always be your great companion. Marin bike sizing is quite simple. The Larkspur 1 is available in three sizes suitable for riders in the height range of 5'0″ to 5'11" – S, M, and L.
Larkspur has a newer version called Larkspur 2. And I don't think there is a much difference between two. Larkspur 2 comes with 11-speed drivetrain instead of 10, and some other minor variations. Some users find the Larkspur drivetrain much better than the Larkspur 2's. So, don't think much about the differences. Just get the one that you can afford.
Why is Marin Larkspur the best commuter bike for plus size person?
Steel step-though frame – strong + easier to climb on/off with a skirt
Maximum weight limit – 355lbs / 161kg with luggage
Wide 2.35″ tires with double rims
Powerful disc brakes
Low standover height
6. Huffy Stone Mountain 26″ Women's Mountain Bike
The Huffy Stone MTB is one of the cheapest adult bikes, yet it's the No. 1 best seller on Amazon (at the time of updating this article) with 3k+ 4 star ratings. Crazy, right? The price tag is obviously the selling point of this bicycle.
As per my research, Huffy bikes don't have good reputation in the market when it comes to quality. However, I included this one on the list just for beginners who don't want to spend more than $200 on a new bike. Huffy Stone comes with alloy steel frame, Shimano rear derailleur with 21 speeds, suspension fork, linear pull brakes, and 26″ x 1.95″ tires. The model is available in multiple sizes and colors targeting individuals of different heights and choices.
The bike is dirt cheap, but surprisingly it is equipped with all the components of an entry-level MTB. Also, it can support riders up to 250 pounds. If you are looking for a bike for just fun riding once in a while, commuting, or taking up a short adventurous ride, then Huffy Stone 26″ mountain bike is undoubtedly the best choice for plus-size riders who are not ready to spend much on a bike.
How to choose a bike for plus size woman
You need to be aware of many factors that need to be considered when taking the plunge of buying a bike for plus-size ladies. Here they are –
1. Strong wheels and frame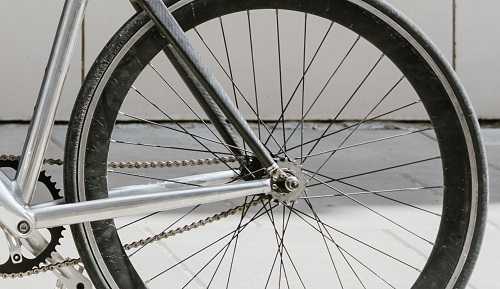 The wheels and frame size are imperative when you choose a bike. Wheels can also be the weak link for plus-sized individuals and are the first to fail when it is not meant for a specific weight. Thankfully, you can get wheels that can suit your weight.
If you plan to bike around the city, a regular size wheel should be fine. In the case of action-packed trails, you might want bigger textured wheels. Additionally, having more spokes on your wheel helps to hold more weight.
Also, having a larger frame helps overweight women. The reason why I am emphasizing going for a larger frame is that they provide more control while biking. A larger frame does help in rugged areas when you're slightly off-roading around the hilly areas.
2. Which bicycle type and size?
A hybrid bike should be perfect while strolling around the city. However, when the requirements are a tad higher, going for a mountain bike with fat tires shall do. The size usually fits between 18-20 inches (medium-large) which should be the ideal size for overweight females.
3. Maximum weight capacity
Knowing the weight capacity of a bike is essential as it lets you know whether you will be able to ride or not. Usually, the weight limit is capped at 270-300 lbs for many bicycles. However, there are other bikes as well which can let you accommodate a maximum weight of 350 lbs or more. For example, Mongoose Dolomite's weight limit is above 400 lbs as per some users.
So, do keep track of the maximum weight capacity of a bike.
4. Comfort and gears
Before going to the technical scheme of things, you can't deny that comfort isn't required when buying a bike. It is the primary focus as having a comfortable biking experience will make you feel like going on multiple bike rides around the city or even hitting the off-roads.
Moreover, a high number of gears are needed when it comes to bikes for overweight females. It can be a tough task when an overweight female needs to cycle uphill, and this is where having numerous gears helps let the rider adjust to the difficulty of cycling in a hilly area.
5. Wider saddle seat and tires
Keep an eye on the saddle seat of the bike when going for the purchase. If the saddle is not wide enough, it would be uncomfortable to sit while cycling and also would hurt your butt after you are done with cycling. Do make sure to get wider saddle seats for a better experience.
Similarly, tread tires are the way to go for a comfortable biking experience along with being wider in size.
6. Brakes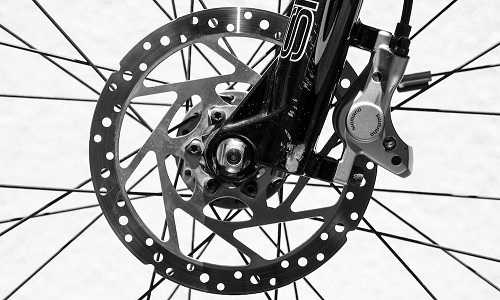 When it comes to plus-sized women, the brakes need to be stronger than the usual ones. I would suggest going for disc brakes instead of casual rim brakes as they do not provide safety. If the woman is beyond 300 lbs, disc brakes are the answer for you.
Cycling tips for plus size women
Don't take it as a battle against others – You shouldn't pressurize yourself into competing with others to get more fit. Biking has a lot to offer than just health goals. Have fun cycling around casually, and you will eventually get in shape, if you plan to do so.
Accessorize accordingly – Do you think you can do better with a wider seat or your helmet requires better ventilation due to excess sweating? Go ahead with customizations to make your ride an adventurous journey.
Get a perfect size – If you think the bike size isn't ideal, customize it or go for a bigger frame size, wider tires, comfortable handlebars, or even a wider seat. In the end, your comfort matters more than anything. Isn't it?
People also ask
Three-wheel or two-wheel bike for obese woman?
It all depends on the choice of the woman. Though two-wheelers are technically advanced, three-wheelers on the other hand provide added stability and are easier to ride. The choice is all yours!
Can a plus-size woman ride a bike?
Cycling is for all shapes and sizes. Plus-sized women can ride a bike without any problem, given she's provided with the perfect bike size.
Are fat tire bikes better for overweight females?
Fat tires are known to have numerous benefits. When it comes to overweight females, these fat tires can carry extra weight, and also provide better traction for off-road terrains. So, yes they are the better option for big ladies.
Further reading – Bikes For Overweight People
Wrapping up…
Phew! That was a roller coaster of a ride with a plethora of information regarding bikes for slightly overweight women. First of all, I would like to tell you that cycling is for everyone and there is no limit on who should ride and who should not.
Before choosing a hybrid, road, or mountain bike, comfort is one of the factors that one should consider. However, this is just one of the many things that needs to be considered before you purchase a bike for a plus-size woman. It might not be a difficult task, but knowing the things you require in a bike helps in the long run.
Anyways, don't hesitate to grab any of the bikes listed above, which I've chosen after hours of researching and analyzing hundreds of user opinions.