Trek vs Specialized bike – which one to choose? This is one tough question about these two biking giants, especially when we are talking about electric mountain bikes. When trying to make a comparison, you will have to dive deep into a lot of factors that can help in differentiating between them.
What makes it incredible is that both these bike brands provide similar bikes at very much the same cost. Both have their pros and cons too, which can be vital when selecting an e-bike.
When it comes to mountain bikes, both of the brands provide a variety of ranges like a hybrid, hardtails, etc. To find your answer, I will be making subtle comparisons in the battle between Trek vs Specialized electric mountain bikes.
Have a look –
Trek vs Specialized electric mountain bikes
1. As a brand
There are notable differences too between Trek and Specialized MTBs, which might not be obvious. Here they are:
| Trek | Specialized |
| --- | --- |
| It prefers a conventional design for bikes. | Specialized bikes rely on modern design. |
| Slightly costly in the MTB range | Somewhat affordable in price regarding mountain bikes |
| Trek bikes are known to have an active braking pivot rear-suspension system. | Prefers Future Shock Rear for its mountain bikes |
| Provides more options in terms of Hardtails | Fewer choices of Hardtails |
| Wheel quality is on the average side | They come with excellent-quality wheels. |
| Disc brakes on almost all of their bikes. | Disc brakes aren't provided extensively enough. |
| Offers a completely customized bike as per preference | They do not offer customized bikes. |
2. Battery & range
| Trek | Specialized |
| --- | --- |
| Battery – 625 WH or 500WH Range Boost Battery | Battery – 500WH/700WH as it depends on which mountain bike it is |
| Range – 3 hours when it is on difficult terrain, and 5 hours when you are on smoother terrain | Range – 5-6 hours depending upon the model |
3. Watt hour
| Trek | Specialized |
| --- | --- |
| The Watt Hour or WH used by Trek is between a 500 and 625-watt-hour battery in its mountain bikes. | 500 WH – 700 WH used between its MTB models. |
4. Size & weight support
| Trek | Specialized |
| --- | --- |
| Size – The size of mountain bikes is XS, S, M, L, XL, and XXL for big riders. (Complete Trek Bike Size Chart) | Size – There are more options in terms of size with XS, S, M, L, XL, S1, S2, S3, S4, S5, and S6. (Complete Specialized Bikes Size Chart) |
| Weight Support – 300 lb (136 kg) | Weight Support – Some of them have a weight limit of 250 lbs, while other models can go up to 300 lbs. |
5. Motor type
| Trek | Specialized |
| --- | --- |
| Bosch Performance CX (250 W, 85 Nm) motor is used in their line-up of mountain bikes. | The electric mountain bikes are powered by the Specialized 2.2 Custom Rx Trail-Tuned Motor. |
6. Throttle & pedal assist
| Trek | Specialized |
| --- | --- |
| Trek bikes do not have throttle control. They have pedal assist, and riding a bike with it feels comfortable. | They are pedal-assisted too and there is not much to choose from the two in this department. |
7. Service
| Trek | Specialized |
| --- | --- |
| Trek bikes have a tradition of a 24-hour service turnaround. The service packages are divided into sub-categories with level 1 consisting of adjusting brakes, while the higher levels comprise additional services. | Extremely helpful from the replacement of parts to helpful customer service. Whether it is about washing or fine-tuning, you get great services for your bike. |
8. Pricing
| Trek | Specialized |
| --- | --- |
| More cost-efficient and affordable when compared to its counterpart. There are more bikes in the low-cost range, which makes it beginner-friendly as per price. | They are affordable too, however, their cheapest bike is a tad $250 more than Trek bikes. |
9. Popular series/models
| Trek | Specialized |
| --- | --- |
| Some of its popular MTB bikes are Supercaliber, Top Fuel, and X-Caliber. Moreover, their electric mountain bikes like Powerfly and Rail are sheer class and are well known among the youth. | The Turbo Levo Comp Carbon, S-Works Turbo Levo, and Kenevo Expert are some of the popular models. |
The best TREK electric mountain bikes/models
Trek bikes are known to have top-class electric MTBs that do blow your mind away. Two of my preferred models are listed below –
1. Powerfly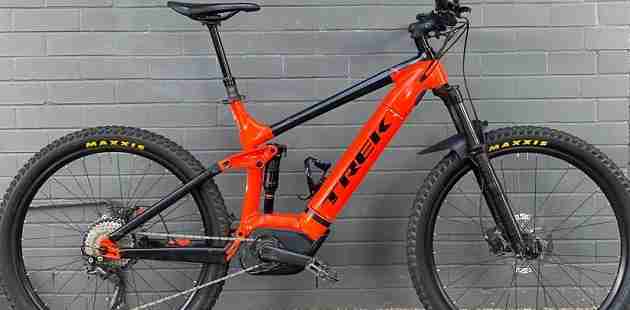 With a sleek design and smart tech to overcome the hills, Powerfly is the electric bike one dreams about. These bikes are loaded with impressive Bosch Performance Line CX drive systems that can bring out the best experience and take on any terrain.
Another statistic that makes me happy is that it provides a range of 5 hours on smoother terrain and 3 continuous hours on tough terrains. With a solid build that can tear any rocky terrain and a removable integrated battery, you can't ask for more.
There's no doubt that the Powerfly flies with its pace and smart tech, making it to my top recommended electric MTB.
2. E-Caliber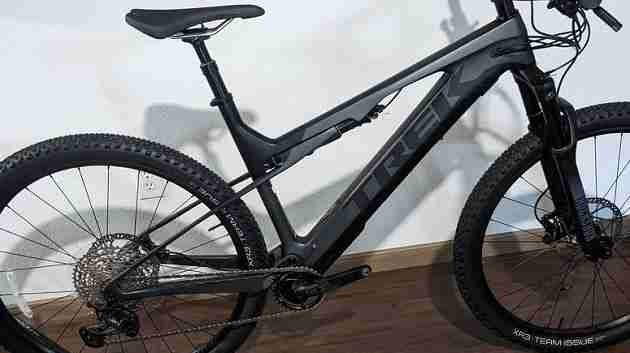 This stunningly lightweight bike is for those wanting to feel the adrenaline rush and travel beyond the limit. There are a total of 11 models in the series with some of them offering full and front suspension respectively.
It is nimble in its movements and is surely considered a mean machine, thanks to its build. If you are on the lookout for a classy mountain bike that grabs eyeballs and excels on numerous trails, the E-Caliber series is the one for you.
The best SPECIALIZED electric mountain bikes/models
These two series of electric mountain bikes have been my picks from the bike brand.
1. Tero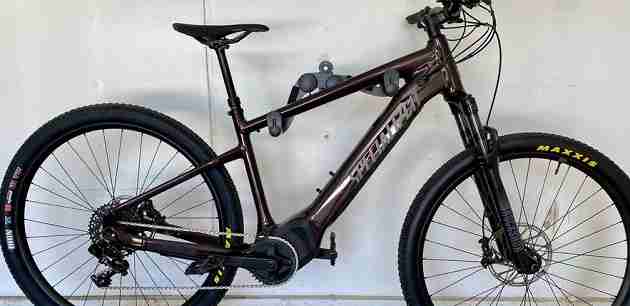 The Turbo Tero is referred to as the Superhero for the range of features that it offers. It might be an electric MTB, but it has the versatility to let you commute on it every day. Moreover, there's a turbo system lock that can be accessed via the mission control app to activate the motion sensor alarm and disables the motor of the e-bike. With a sturdy build and impressive inbuilt tech to mesmerize you, this bike ticks off all the boxes.
2. Vado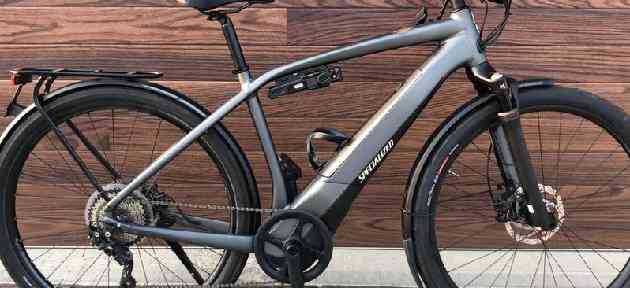 This e-bike has got it all from being absolutely fast and ridiculously good-looking with a few tricks up its sleeve. The geometry is designed in a way to give you maximum comfort while riding and its hydraulic disc brakes are the icing on the cake.
Also, a turbo system lock is present just like the Turbo Tero along with a removable and lockable battery to keep away from thieves. I am not done yet as fully integrated lights, Garmin radar, and optional auto-shift makes it a power-packed electric bike.
I must say that the Vado is full of pace and genuinely smooth for your everyday ride.
Verdict: Trek vs Specialized e-bikes
If I had to sum it up, there is not much of a difference between these two bike brands. Trek does have more on offer when it comes to the lower-priced bikes, but Specialized bikes are affordable too with standout models.
You won't be at a loss in case you choose a mountain bike from Trek or Specialized. It might boil down to personal preference in terms of usage, comfort, or even looking at individual parts of the mountain bikes.