Yeti Cycles has a pretty straightforward way when it comes to sizing of its bicycle models. As you know, the number one requirement when buying a bike is to know whether it will be of your size or not. If you're new to the world of cycling or want to shift to a better cycle, having a size chart helps immensely.
Therefore, the Yeti bike sizing chart comprises size categories ranging from XS-XL, depending upon the rider's height.
Yeti Cycles as a brand can be termed an underdog in its industry as they provide a range of bikes that you can rock it. Having been founded in the year 1985, the bicycle brand is based in Colorado, USA. Also, their impressive lineup of mountain & trail bikes is very popular among bicycle enthusiasts.
Yeti bike size chart by models and height
Check your height and choose what Yeti bicycle size and model you will be rocking around the mountains and trails.
| SIZE | SB140, SB130, SB5, SB6 | SB165, SB115, 160E, ARC | SB150 |
| --- | --- | --- | --- |
| XS | 4'11"-5'3″ (150-160cm) | NA | NA |
| S | 5'3″-5'7″ (160-170cm) | 5'1″-5'7″ (155-170cm) | NA |
| M | 5'7″-5'11" (170-180cm) | 5'5″-5'11" (165-180cm) | 5'7″-5'11" (170-180cm) |
| L | 5'11"-6'3″ (180-191cm) | 5'10"-6'3″ (178-191cm) | 5'11"-6'3″ (180-191cm) |
| XL | 6'3″-6'6″ (191-198cm) | 6'1″-6'7″ (185-201cm) | 6'3″-6'6″ (191-198cm) |
29″ Wheel Size – 160E, SB160, SB150, SB140, SB130, SB120, SB115, ARC
27.5″ Wheel Size – SB165 & SB140 27.5
Reasons Yeti bikes are good
If I have to collect all the reasons why Yeti bikes are worth-it, it might take a pretty long time. However, I have listed a few reasons why they are good and worth the money. They might be slightly expensive, but you do get top-tier quality.
Let's check out the reasons –
1. TURQ carbon frames

Having carbon construction results in better control, less weight, and also adds to the overall aesthetics of the bike. Carbon is the material they prefer in their bikes, and that is the way forward.
2. Switch infinity suspension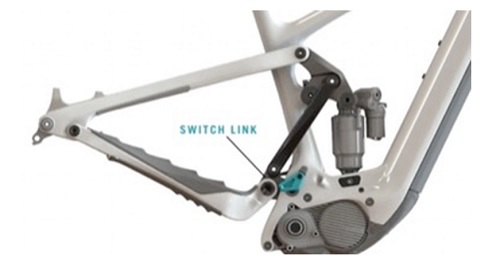 The switch infinity can be referred to as a four-bar system with a lot of versatility that can easily adapt to various travel platforms. It is known to control ride characteristics in a better way as compared to other suspension designs, thanks to its linear path of the main pivot.
It has fantastic improvements for riders of all speeds and skills as compared to earlier versions.
3. Multiple frame sizes
Something that can be missing in other brands is what Yeti bikes offer. They provide a plethora of frame sizes as they do know that not everyone has the same body size and geometry.
4. Top-tier quality
I must admit that Yeti bikes are without a doubt high-quality. The way they tend to focus on offering the best to their buyers is a remarkable thing. If you need a bike that can take on any weather condition or terrain, go for Yeti bikes.
5. Durability
They are built in a way to last long. Additionally, they offer an impressive warranty on their bikes.
6. Additional items
Apart from their stunning bikes, a lot of gear is available for bikes. They range from, water bottles, helmets, and other biking accessories.
7. Customizable
You are free to customize your Yeti bike as per your choice in terms of accessories, components, and even color.

The bad
There are certain cons as well that you need to keep in mind. They are as follows –
1. Minimal distribution
Most of the top biking brands have a network of distribution of their bikes. This isn't the case with Yeti bikes as the Colorado-based bike brand is available to limited retailers. This can suck big time as you may not be able to purchase a Yeti bike from your area or city.
2. Costly
The majority of people would want a bike that would suit their budget. Only a few wouldn't mind spending a lot of bucks to get a bike. Most of the bikes from the brand are quite costly, which might not be a preferred choice for many bikers.
2. Regular maintenance
As the brand focuses mostly on mountain bikes, cleaning them at regular intervals and frequent maintenance is required to keep the efficiency of the bikes.
Q&A
Is Yeti Cycles owned by Schwinn?
Schwinn bought Yeti in 1995. However, Schwinn sold Yeti to a company named Volant after a few years. Finally, ex-employees in the form of Chris Conroy and others bought the company to rebuild it again.
Where are Yeti bikes made?
The American bicycle manufacturer makes all of its bikes in Golden, Colorado, USA. While some of the frames are manufactured in Vietnam too.
Are Yeti Cycles and Coolers the same company?
No! They both are entirely different companies. Yeti Cycles were founded in 1985, mostly known for its top-class bicycles. On the other hand, Yeti coolers (currently called Yeti) were founded in the year 2006. They make coolers and also bags, which are completely different from what Yeti Cycles make.
Why are Yeti bikes so expensive?
As a bicycle brand, they have solely focused on producing top-tier mountain bikes. These bikes are usually made up of high-end carbon fiber and costly components that you won't find in many cases with its competitors.
Also, most of its bikes are built around the lightest and strongest framesets which increases its price.
Final thoughts
The official Yeti sizing guide is somehow different as it not only shows your ideal bike size, but also guides you with detailed information as to what should be your height for a particular bike model, stack, reach, and top tube as per the geometry of the body.
I feel that is a lot of data for any casual or bike enthusiast to lock in their preferred bike choice. Also, the brand focuses on mountain bikes with slight variations for different users with trail bikes and mountain-specific bikes.
The price tag attached to these bikes can be a deal breaker, but they are offering you carbon fiber quality in your bike, what more do you need along with impressive features?
In my opinion, they are a brand that focuses more on quality instead of variety, which is fair. If you're looking for a performance beast to beat the mountains, going for a Yeti bike is highly recommended.