Just like kids' three wheel bicycles, adult tricycles are measured by the diameter of the wheels, and not by the length of the seat tube (centre of the bracket to top of seat tube). Adult-sized tricycles usually come in four sizes ranging from 20″ to 27.5″ wheels. Your ideal size tricycle will depend on your height, weight, inseam, and your preferable riding style.
Tricycle aka trike or rickshaw has two wheels at the back and one in the front. It is suitable for people of all ages and offers great stability. For senior citizens or adults who are poor in balancing with the traditional two-wheel bicycles, a tricycle is a smart choice.
What size tricycle for adults? (chart)
Unlike regular bikes, I think knowing your height and weight is more than enough when choosing the right sized tricycle. Below is the adult tricycle size chart as per height and wheel sizes. I recommend you to go through the weight and sizing guide of the particular brand of your desired 3-wheeled bike.
| ADULT HEIGHT | TRICYCLE SIZE (WHEEL) |
| --- | --- |
| 4'8″ – 5'4″ | 20″ |
| 4'11" – 5'9″ | 24″ |
| 5'3″ – 6'2″ | 26″ |
| 5'5″ – 6'5″ | 27.5″ |
Adult tricycle wheel sizes & features
Wheel sizes have great impact on the performance of the tricycle. Let's look at the characteristics or features of four common tricycle wheel sizes:
| WHEEL SIZES | FEATURES |
| --- | --- |
| 20-inch | Suitable for shorter adults who are in a height range of 4 ft. 8-in to 5 ft. 4-in. 20-inch tricycles are lower to ground, lighter, have smaller/short baskets, and offer smoother ride. The only disadvantage you may face with 20″ tricycles is that they are little uncomfortable when riding on pot holes and bumpy roads. |
| 24-inch | Larger than the 20″ one. It suits riders with height between 4'11" – 5'9″ and it's one of the most common three wheel bicycle sizes. It provides more stability and we feel more comfortable to roll on unpaved terrains or bumpy roads |
| 26-inch | Fits tall riders up to 6'2″. Usually, 26-inch tricycles have higher weight capacity, stronger material, durable, and can handle heavy adults. They come with bigger baskets and are easier to maneuver on different types of roads. |
| 27.5-inch | Largest size of all, pricier, and can fit even 6 feet+ tall riders. 27.5-inch tricycles can carry higher loads and come with bigger baskets as well. They are faster to accelerate, provide smoother ride, and can deal with most type of terrains. The downside – because of its size and weight, a 27.5-inch folding tricycle will be a little bulky and difficult to carry around. |
Adult-sized tricycle types
Adult tricycles are available in a variety of styles and designs, such as electric tricycle, racing tricycle, and rickshaw. Below are the three most common tricycles you'll find:
1. Recumbent tricycle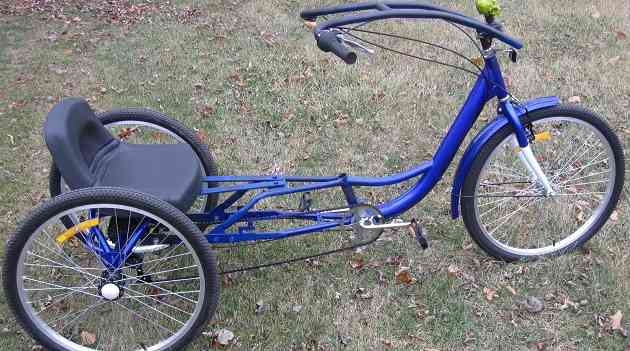 Recumbent trikes come with semi-reclined, chair-like seat and offer more stability and relaxing position while riding. Because of the design, your body sits much lower to the ground with your legs in front of you. Recumbent tricycles are ideal for seniors and fun relaxing ride.
2. Upright tricycle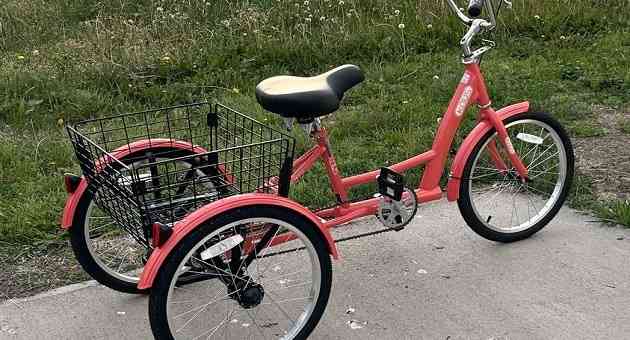 Similar to two-wheeled traditional bicycle, this type of tricycle allows you to sit and ride in an upright position. This the most common tricycle type you'll find and it comes in different styles and features, such as single or multi-speeds, foldable, battery or engine powered, front basket, rear basket, adjustable seat, and so on.
3. Cargo tricycle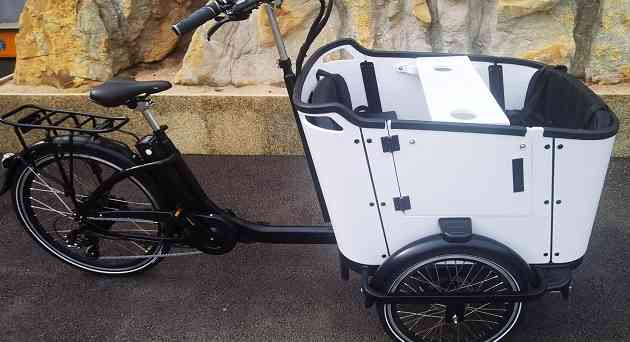 Also known as utility tricycles or freight trikes, they are designed for carrying or transporting goods from one place to another. They usually come with box carriers or huge basket and offer higher weight capacity.
Pros and cons of adult-sized tricycles
Trikes are not that cheap. So, be well informed about their advantages and disadvantages before deciding on getting a new one.
| PROS | CONS |
| --- | --- |
| Extra stability – less prone to accident or injuries and can safely ride on roads of different conditions at any speed | If not foldable, it's hard to carry and move around because of its size |
| No need to balance – even people with poor balancing skill can easily start and stop without the need of balancing. | Need to be more careful while cornering on high speed. Otherwise, it may topple over because of the trike geometry |
| Great comfort – because of its broad seat and design, three wheel bikes offer extra comfort and adults can sit and ride for long hours with no body pain | Slower when compared to traditional bicycles |
| Safe and easy to ride – kids and senior citizens can easily hop on, steer, and control the trike. A tricycle is already in balance, so there is a very less chance of falling off | Three wheel bikes occupy more space, so you may find a bit challenging to ride on packed sidewalks or road sides |
| Trikes come with big baskets and can carry heavier weights. You can go grocery shopping, put a lot of stuff in it, and can carry back home with ease | Needs a bigger space for storage. So, people with a limited or small space may find it a bit difficult |
| Suitable for elderly and disabled people- trikes have lower seating position with pedals in front. So, old or handicapped persons will find it much easier to ride | |
In conclusion
Trikes come in different sizes suitable for riders of different heights. An ideal tricycle size depends on the height, weight, and preferable riding style of the adult. As explained above, sizes of three wheel bicycles are determined by the diameter of the wheels. The most common adult tricycle wheel sizes are 20″, 24″, and 26″.
Three-wheeled bikes are great for people of all ages. Whether you want to use it as means of transporting goods, or for exercising, commuting, or fun riding, a tricycle is highly recommended because of the extra stability and comfort it provides.
Further resource – Bicycle Size Chart By Height