This has been a burning question that has been asked in the past by many on social media platforms. If we have to talk about a 22-inch bike, it can either mean in terms of frame size or wheel size.
When you talk about a kid's bike, they are measured via wheel size, and not frame size. Technically speaking, there's nothing such as a 22-inch bike for kids. The available wheel sizes after 20 are 24-inch wheel sizes for a kid's bike.
On the other hand, bikes for adults are generally determined by the frame size, and they do offer a 22″ bike (frame size).
What size is a 22 inch bike?
To be honest, a 22-inch frame size bike can be termed as an XL Size as per an adult's bike. You won't find a 22-inch kid's bike as they are measured through the wheel size when compared to a bike for adults. Most of the bike brands provide a 24-inch wheel size for kid's right after the standard 20-inch option.
So, anyone around the height of 6 feet or more can opt for an XL 22″ size bike.
Is there a 22 inch bike?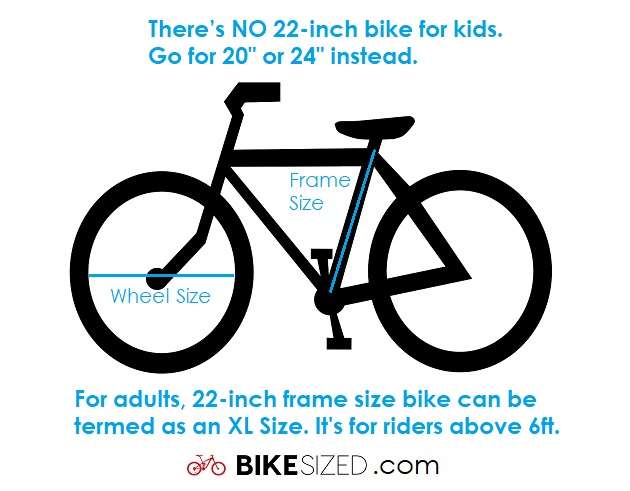 As I've mentioned above, the existence of a 22-inch bike depends upon what are you asking about. If it's regarding a wheel size, which is the solitary method of measuring a kid's bike, then the answer is a NO.
Most of the bikes for kids offer a 24-inch wheel size after the usual 20-inch option.
If you're talking about an adult's bike, the answer is in the affirmative (Yes). You can easily find a 22-inch bike for an adult in countries like India and Japan, depending upon the height as well.
How tall should a person be for a 22 inch bike?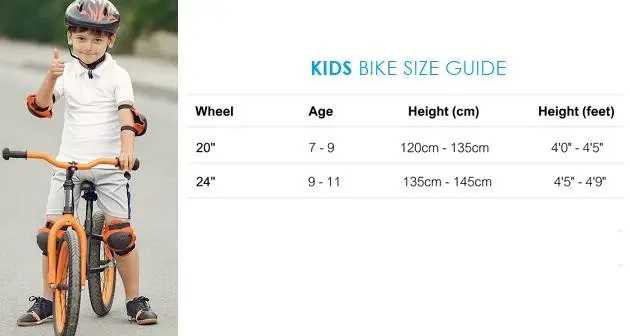 Regarding a kid's bike, there is no such size available in most cases. Kids have to either go with a 20-inch wheel size or take a leap with 24-inch wheel size. If it's about 24″ wheel size, a kid from the age of 8-12 can select this size without thinking about the height of the little one.
In terms of an adult's bike, a 22-inch frame size would be suitable and appropriate for individuals with a towering height of 6'0"-6'3". If you have a good height, 22-inch bike is ideal for you.
I'm talking about an adult's bike, do not get confused.
How about a 22-inch BMX bike – is it becoming more popular?
A 22-inch BMX bike is a rare special case as there are only a few brands that manufacture it. In the past, there was hardly an option for a 22″ BMX bike, however; the demand for this particular size has been increasing at a rapid pace.
Over the past year or so, many brands have had a re-think and are planning to introduce their 22-inch BMX bikes to cater to the sudden craze. This is currently the best time for getting your hands on a 22″ bike with larger production on the line; you can expect competitive prices set by the bike brands.
If I'm talking about a BMX bike for a kid, I would recommend going for a 20-inch or 24-inch BMX bike.
In short, 22″ BMX bikes are about to be the hot thing in the market and are getting popular at a rapid pace.
Importance of frame size
It is essential to know what frame size is for you. If you get the wrong frame size, you'll have difficulty pedaling the bike and that will affect your cycling experience. When the size of the cycle is small, you won't be able to freely extend the legs for a comfortable ride.
On the other side, a bigger frame size can stop you from attaining the leg rotation required to easily pedal during high-speed biking.
All you can do is, stand over the frame and keep both feet on the ground. This way, you'll notice an inch distance between the crotch and the frame of the bike. You'll get a rough idea of whether it is racing, mountain, or a hybrid cycle.
Go for a test ride
Before you select a bike for yourself, whether it is a 22-inch frame size or a kid's bike of 20-24-inch, it is very important to give a test ride to completely know whether it is comfortable for the kid or adult in every way.
Just picking up a bike as per the internet might not be a good idea as everyone is different in structure. What may be suitable for one person on the bike; might not be a comfortable experience for the other.
Be wise when going for a 22″ bike or of any size for that matter.
Conclusion
As I draw the curtains to this article, I would want you to know that a kid's bike is way different when compared to an adult's bike. For a kid's bike, you need to be aware of the wheel size suitable for your kid. Purchasing a bike for an adult will require knowing what frame size would suit a certain individual as per their height and related things.
Coming to the title of the article, a 22-inch bike would be the right choice for an adult with a height of 6 feet and above as per frame size. For a kid, there's no such option as 22-inch wheel size. Instead, kids can opt for a 20 or 24-inch bike.