Tall men face less challenges when it comes to finding a date, but they need to put more effort when it comes to searching for a new bike that fits their height. A man with average height like me can easily find a well-fitted bicycle in any bike store. But, when you are a 6'4 or 6'5 man, things become harder as most bike manufacturers seem to be not interested in offering a bike for exceptionally tall men. But don't worry, I'll guide and help you find the best bike for 6'4 – 6'5 man out there.
Generally speaking, men who are 6 feet 4 inches or above will need a bicycle with larger frames and wheels, and higher weight limit. In most cases, you'll belong to XL, XXL, 19-inch+, and 61cm size category, as per the bike type and the brand.
Choosing a right fitting bicycle is important for tall people. Riding a too small bike can cause knee injuries, discomfort, and may kill the joy of bicycling.
Bike size guide for 6'4″ – 6'5″ man
Bicycle sizes may vary according to the frame geometry, bicycle type, wheel diameter, and other factors. Some brands use alpha sizing like Large or Extra Large while some use numeric sizing, such as 18″ for mountain bike and 61cm for road bike. It seems absurd that mountain bike frame sizes are listed in inches, while road/hybrid sizes are usually listed in centimeters. But anyway, you won't be confused as most manufacturers have recently started labeling their bicycles in alphabetical code, following the same clothing size system.
Below is the bike size chart for 6 feet 4 inches and 6 feet 5 inches men –
| HEIGHT | ROAD/GRAVEL BIKE | MTB | HYBRID |
| --- | --- | --- | --- |
| 6'4″-6'5″ / 193-195.58cm | 61-63cm (XL/XXL) | 19″+ (XL/XXL) | 19″ (XL/XXL) |
Bicycle sizing notes for the tall riders –
Wheel sizes – adult bicycles are sized as per the length of the seat tube. But, wheel diameter is another important thing you may also need to consider and 29″/700c wheels may be preferred for tall people, but this isn't mandatory. Most bikes come with 26-inch wheels and they are well suited for 6'4″/6'5″ men.
Weight limit – tall men are often heavier. So, you have to look for a bike with higher weight capacity. The good news is that most bicycles can easily handle 220lbs (100kgs). If you are over 270lbs, you have to look out for a bike with strong components and higher weight capacity.
Inseam, stack, & reach – most tall men have longer inseam. The XXL size doesn't mean that it will fit you perfectly. Measure your inseam and compare it with the bike's standover height. Stack, reach, handlebar height, and stem length are a few more terms you need to be aware of. But, you don't need to focus too much on these. Most bikes are customizable.
4 best bikes for 6'4 and 6'5 man
1. Firmstrong Bruiser Beach Cruiser Bike (up to 6'4″)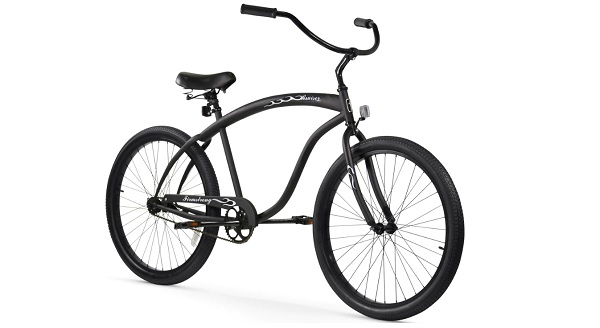 Firmstrong Bruiser is one of the only few bikes for 6'4 man you may come across online. You'll question its affordability. But, this is just a simple bike with only essential features – it has no gears, no levers, no cables, no disc brakes.
As the name says, it's a recreational cruiser with relaxing upright geometry for endless fun ride. It comes with 19 inch steel frame, 26″ sized aluminum wheels, 2.125″ wide tires, and coaster brake. Now, when it comes to suitability of a tall 6'4 man, this cruiser bicycle can support 300lbs men and can fit riders between 5'4″ to 6'4″.
Some really tall riders complain about 350mm seat post length being bit short. But, I don't think it's a big issue as you can customize or swap out the seat post with a 450mm one, which is easily available online at around $20. The good news is that a 6'5″ man can even opt for this cruiser if he is ready to change the seat post.
All in all, this Firmstrong cruiser is a solid bike for 6'4 man who wants to get into a biking journey for fun and health.
Official recommended height – 5'4″ – 6'4″ (fits 6'5″ + with longer seat post)
2. EVRYjourney by sixthreezero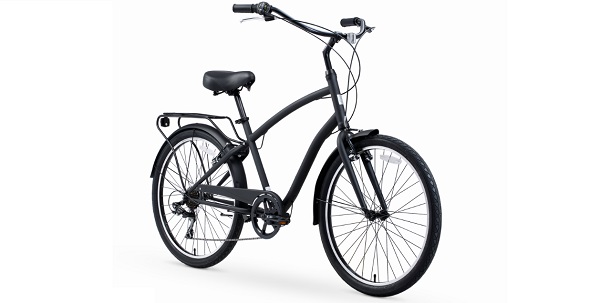 With almost the same size details as above, this is another great bicycle for 6 feet 4 inches men. EVRYjourney hybrid cruiser bike comes with different speed options (1, 3, 7, and 21) at different price tags. It is equipped with 26″ wheels, 2″ tires, and 19″ steel frame.
So, what makes this bicycle ideal for tall riders? It has a standover height of 27″, 21″ top tube length, and 40″ seat max height. It comes with 36 spokes and has maximum weight limit of around 300 pounds. As a brand, sixthreezero is quite a trusted and well known brand that offers a range of beach cruiser and hybrid bikes for men and women.
EVRYjourney is a perfect bike for commuting, cruising to the beach, riding around the town for fun and shopping, or exploring your neighborhood. The bike is fitted with rear racks and fenders. But, it's highly customizable too. You can get large extra seat, rear back, and water bottle as well.
Overall, EVRYjourney is brilliant option for tall beginner riders who are looking for an affordable, quality bike.
Recommended height – 5'0″ – 6'4″
3. Cervelo Aspero Apex 1x Gravel Bike
Cervelo Aspero Apex 1x is a do-it-all gravel bike with attitude. Available in six sizes, the largest 61cm size fits six feet plus riders between 6'3″ – 6'6″. It has a standover height of 83.8cm, stack of 63cm, 41.5cm reach, and effective top tube length of 60.8cm. All these make Aspero Apex 1x an ideal bike for 6'4 and 6'5 men.
With detailed geometry and aerodynamic design, Cervelo Aspero Apex 1x is for someone who wants to explore wild terrains, jumps, and speed. This gravel bike is packed with advanced features and technologies – high quality all carbon frame, SRAM Apex 1 power system for quick ride, responsive handling, efficient SRAM Apex 1 hydraulic disc brakes, Panaracer Gravel King SK Sport tires, and so on.
But, there is a downside. Cervelo Aspero Apex 1x is quite expensive. However, for pro tall riders, it is worth the price you pay.
Recommended height – 6'3″ – 6'6"
Related – Cervelo Bike Size Chart
4. Heybike Cityscape electric bike (up to 6'5)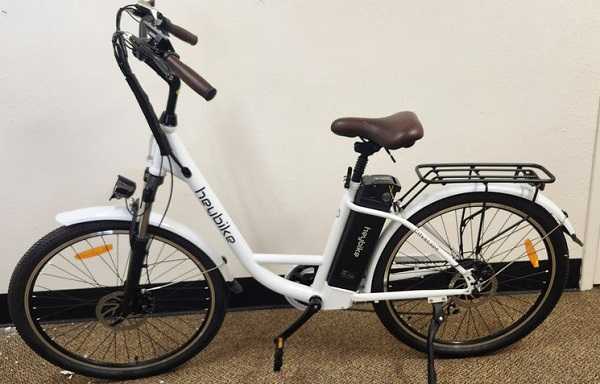 Heybike is a pretty popular brand, focusing more on making affordable electric bicycles. Not everyone wants to spend $1500 plus on an e-bike only to realize that cycling isn't fun for them. Right? The brand has a variety of budget e-bike models at different price tags, such as CityRun, Brawn, Mars, Ranger, etc.
But unfortunately, not all of its models suit 6 feet 4+ men. That said, Heybike Cityscape is one bike that fits tall riders up to 6'5. It has maximum seat height of 37″, 19″ standover height, 26″ wheels, 264 pounds max-weight limit, and 22″ top tube length.
Let's talk about some of its features. Cityscape is a cruiser type or commuting bicycle with 350W motor, 36V 10Ah battery, headlight, horn, 7 Speeds, digital brakes, and can hit up to 40 miles in pedal-assisted mode. Here, I would like to mention that for big, tall guys, the battery range (40 miles) will be much lesser. The more your weight, the shorter the range would be.
The cushioned seat with shock absorbing feature, leather hand grips, and the upright geometry makes Cityscape really comfortable to ride for long hours. The negative part is that Heybike Cityscape electric bike received mixed reviews.
The problem is, there are not many e-bikes for 6.4 feet plus riders. While Cityscape is certainly no BIANCHI or SANTA CRUZ e-bike, it's one of the best ebikes for tall riders.
Recommended height – 5'3″ – 6'5″
Final thoughts
6'4″ and 6'5″ men seem unlucky when finding an ideal fitting bicycle for them as most bicycle brands don't cater to remarkably tall people. The first and most important thing to consider when buying a bike for them is to know their size bike. An Extra Large size doesn't mean that it would fit a 6'4 or a 6'5 man. You need to consider a few other things like stack, reach, standover height, and your inseam leg length. The above guide is all you need in finding the best bikes for 6'4 – 6'5 man.
Further resource – Bikes For Big People