Knowing which size of BMX bike is the perfect fit for you can be a tricky experience. It is somewhat similar to finding the right size of shirt that you can flaunt with confidence and comfort. Choosing the correct size is essential to let you have the bike ride you have always been looking for without any issues.
It is a well-known question among BMX riders (especially starters) about what should be their ideal size. You do not need to decode rocket science to get to the answer as most probably it all boils down to your height and a slight knowledge of dimensions and size.
BMX bikes are the coolest due to their ability to do spectacular tricks and moves on the streets or even in parks. However, there are different types of them to choose from. To perform those classy tricks on your BMX bike, knowing what size is the best for you is essential, isn't it?
BMX bike size chart by height (for kids and adults)
The perfect BMX bike size is directly related to your height and in a way age too. The following chart shall help you find the size you can comfortably show off those silky tricks with the bike.
Have a look:
| HEIGHT IN CM/INCH | BMX BIKE SIZE (WHEEL) | TOP TUBE (TT) LENGTH |
| --- | --- | --- |
| 71-91cm (2'4″-3'0″) | 12 inch | 12-12.5 inch |
| 81-106cm (2'8″-3'6″) | 14 inch | 14-14.5 inch |
| 96-122cm (3'2″-4'0″) | 16 inch | 16-16.5 inch |
| 122-147cm (4'0″-4'10") | 18 inch | 18-18.5 inch (XS/S) |
| 147-157cm (4'10"-5'2″) | 20 inch | 19.75-20.25 inch (S/M) |
| 157-168cm (5'2″-5'6″) | 20 inch | 20-20.5 inch (S/M) |
| 168-175cm (5'6″-5'9″) | 20 inch | 20.25-20.75 inch (M/L) |
| 175-183cm (5'9″-6'0″) | 20 inch | 20.5-21 inch (M/L) |
| 183-190cm (6'0″-6'3″+) | 20 inch | 20.75+ inch (L/XL) |
| 175-183cm (5'9″-6'0″+) | 24 inch | 21+ inch (L/XL) |
| 162-188cm+ (5'4″-6'2″+) | 26 inch | 22 inch+ (L/XL) |
A few things to know about BMX bike sizing –
20″ is the standard, original size of a BMX and it comes in different sizes (TT).
When it comes to BMX sizing, the top tube (TT) measurement is more important than the wheel size.
For kids, if the size overlaps, then get a bigger one.
Even a 6-years-old boy can ride a 20″ BMX bicycle (with the ideal TT length).
Bonus – always wear a helmet.
How to measure a BMX bike? – the geometry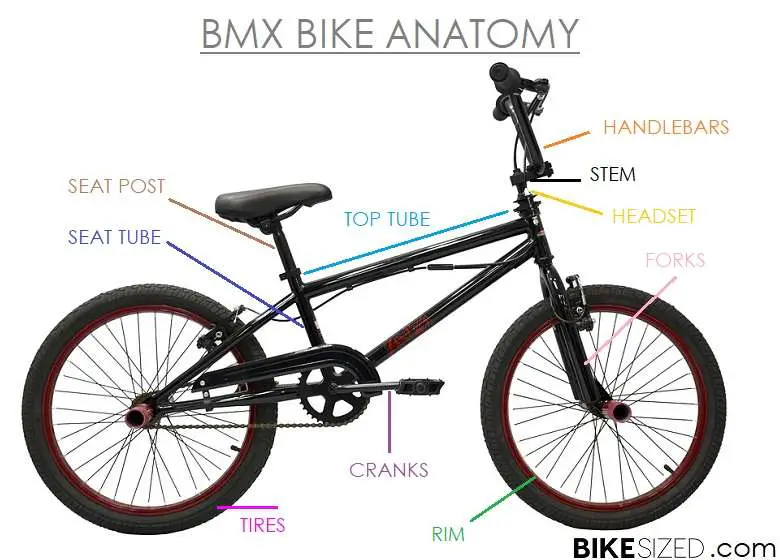 Measuring a BMX bike can be quite a task, but it can get a heck lot easier with proper knowledge. When visiting a store for purchasing a bike, you can take the help of a size chart and compare it with your size for a better understanding.
This will guide you with the correct measurements to choose the ideal bike that you have been looking for. Some of the other factors to keep in mind before you make the decision is to check the distance from the handlebars to the seat tube, frame dimensions, and others that I'll be listing below.
Here they are –
1. Tape measure
Get a tape measure with measurements depicted in inches.
2. Measure the diameter of the tires
Begin with measuring the diameter of the tires. In this way, the bike size chart can guide you about your ideal size.
Measuring a tire shouldn't be a big issue as all you need to do is hold the measure on one side of the rim and try to see the difference in the number on the other side. For the correct measurement, it is advised to go through the center of the wheel.
3. Finding the seat tube & measurement of its height
Locate the top portion of the seat tube where it holds the seat in place. Measure it till downwards where the tube gets connected with the pedals. This is where you find the seat tube length and it will determine how high you sit on the bike.
4. Measuring top tube
Apart from measuring the top tube, the distance from the seat tube along with its connection to the front axle is imperative. This way you will get to know whether there is enough space to fit your feet during pedaling and getting a hold of the handlebar.
5. Have a look at the chainstay length
Having a longer or shorter chainstay length can have a huge impact on the performance of a BMX bike. Therefore, you need to choose one that is prescribed as per your body size in the chart.
6. Measuring the height of the bike
The overall height from the ground to the top tube needs to be measured. This is the ride height which determines how comfortably your feet would be on the ground when resting during tricks.
7. Make a rough sketch of the bike
Sketch of the BMX bike and list all the measurements accordingly at the correct place. This will help you keep a tab on the different geometrical measurements of the bike and make an easier decision while purchasing the bike.
Why top tube measurement is important in BMX bike sizing?
It is the top tube (TT) on the frame of a BMX bike that joins the front portion of the bike with the seat post tube. TT is considered to be a reasonable metric in providing BMX bike size estimates.
The length of the top tube can give you a fair idea of how close or far the bars are to you. Such things can have a deep impact on your biking experience.
By measuring the top tube, you can get to know what size fits you the best and the frame size you will be comfortable with.
BMX bike types
BMX bikes are cool, but do you know the different types that exist? Here they are:
1. Freestyle BMX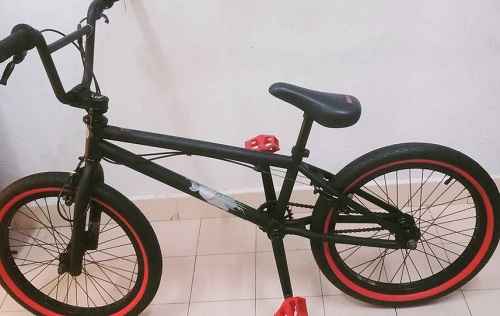 They do come with 20-inch wheels and most probably without brakes. However, on certain models, they do have straight cable brakes. Additionally, the hand grips do not consist of inner flanges. With a freestyle BMX, you're going places with incredible stunts.
2. Flatland BMX
These bikes are meant for spinning and balancing tricks. Also, shorter wheelbase structures are considered more for a better stunt performance as they can easily stand on them.
3. BMX dirt bikes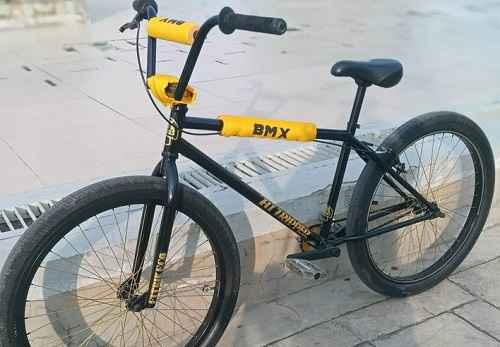 With a thicker thread on the tires, you get a better grip on slippery surfaces. These bikes are well-known for the off-road thrill and are light in weight.
4. Park style bikes
Also referred to as Vert bikes, they are even lighter dirt BMX bikes. In most cases of a park-style bike, there are no brakes and it is recommended to ride in parks mostly instead of other terrains.
5. Race bikes
A race bike usually achieves a higher speed as compared to other BMX bikes due to its high gear ratio. Also, brakes are essential for such bikes due to their top speed.
Other things to consider in a BMX bicycle
When you talk about BMX bikes, they are top-tier with durable frames, chunky fat tires, and an unmatched level of stability to flaunt those super cool tricks and stunts. But, what are some of the other things to consider in a BMX bicycle?
1. Crank arm size
Do make sure to get crank arms that aren't too long or short. If they are longer, they will make the bike rider swing sideward and be traveling in a zig-zag line. If the crank arm size is shorter, there won't be space for proper leg extension. Measure the inseam of the rider to get hold of the ideal crank arm size.
2. Tires
People weighing above 145 lbs should go for 20 x 1.75 tires when it comes to the front wheel. Have a wider tire for better traction and control of the bike.
3. Stem length
The secret to fine steering is to have the shortest stem for the frame. By having a longer stem, there are more chances of over steering.
4. Rims
It can be described as the distance measured per inch across the face of the tires.
5. Handlebars
The steering control for bicycles and handlebars can make a huge difference to your biking experience. Good handlebars can let you enjoy your bike ride, but a bad one can equally make you frustrated.
Bottom line
By the time you're reading the conclusion, I'm certain that you're keenly interested in bikes or you've checked out the sizing chart for BMX bikes to know what your ideal BMX bicycle is. These bikes do bring out your best where you can flaunt your skills through stunts and silky bike moves.
However, before buying a BMX bicycle, I would recommend you go through the things to be considered (listed above). If you're past this, you are good to go.