Getting a new bicycle can be fascinating and adventurous, but the main obstacle is what the ideal bike size is. Finding the right Raleigh bike size for you is not a difficult process; all you need to what frame size would your height be compatible with.
Raleigh bikes as a brand have been producing quality bicycles since the year 1885 with a lot to offer to its loyal customers. Known to be a fine product of British engineering, Raleigh bikes have started to focus more on electric and hybrid bikes in the recent past.
Since I have mentioned the company, let's have a look at the Raleigh bike size chart below, and later you'll get to see a wide list of Raleigh bike models.
Keep reading:
Raleigh bike size chart
Having a proper size chart is a blessing for anyone looking to own up a bike. Just like other bicycles, the Raleigh sizing chart will help you know what should be the wheel or frame size according to your height in feet and centimeters.
Without further ado, let's have a look at the Raleigh bicycle size charts:
Raleigh mountain bicycle sizing chart
Raleigh offers mountain bikes in different frame sizes as per the models. The below table gives the recommended sizes according to your height.
| YOUR HEIGHT | FRAME SIZE (INCH) | FRAME SIZE (CM) |
| --- | --- | --- |
| 4'9″-5'1 ft (150-156cm) | 13″/14″ | 36cm |
| 5'2″-5'5 ft (157-165cm) | 16″ | 40cm/41cm |
| 5'6″-5'10 ft (167-177cm) | 17.5″/18″ | 44cm/46cm |
| 5'10"-6'0 ft (177-182cm) | 19″/19.5″/21″ | 48cm/50cm/53cm |
| 6'1″-6'5 ft+ (182-195cm+) | 22″/23″ | 56cm/58cm |
Raleigh hybrid bike size chart
Raleigh hybrid bicycles come in various frame styles, such as crossbar, low step, and open frame. Also, they have one-size-fit frame, like the HOPPA HYBRID BIKE with 24-inch wheel and 45cm frame size. Below is the hybrid bicycle sizing as per Raleigh UK's recommendation.
| YOUR HEIGHT | FRAME SIZE (INCH) | FRAME SIZE (CM) |
| --- | --- | --- |
| 5'0″-5'4 ft (152-163cm) | 14″-15″ | 36-38cm |
| 5'5″-5'8 ft (167-177cm) | 16″-17″ | 40-43cm |
| 5'8″-5'11 ft (177-180cm) | 18″-19″ | 46-48cm |
| 5'11"-6'1 ft (180-185cm) | 20″-21″ | 50-53cm |
| 6'1″-6'5 ft+ (185-196cm+) | 22″-23″ | 56-58cm |
Raleigh classic sizing chart
Raleigh classic bikes look stylish and they come with 700c/24 inch wheel sizes.
| YOUR HEIGHT | FRAME SIZE (INCH) | FRAME SIZE (CM) |
| --- | --- | --- |
| 5'1″-5'6 ft (155-168cm) | 17″ | 43cm |
| 5'6″-5'11 ft (168-180cm) | 19″ | 48cm |
| 5'11"-6'1 ft (180-185cm) | 20″ | 52cm |
| 6'1 ft+ (185cm+) | 22″/23″ | 56cm/58cm |
Raleigh electric hybrid bike sizing chart
| YOUR HEIGHT | FRAME SIZE (INCH) | FRAME SIZE (CM) |
| --- | --- | --- |
| 4'9″-5'0 ft (150-152cm) | 15″-16″ | 38-41cm |
| 5'0″-5'4 ft (152-163cm) | 17″-18″ | 44-46cm |
| 5'4″-5'9 ft (163-175cm) | 18″-19″ | 46-48cm |
| 5'7″-6'1 ft (170-185cm) | 19″-20″ | 50-52cm |
| 5'10-6'3 ft+ (178-193cm+) | 21″-22″ | 54-56cm |
Raleigh kids bicycles
| AGE | WHEEL SIZE (INCH) |
| --- | --- |
| 2-3 Years | 12 inch |
| 4 Years | 14 inch |
| 5 Years | 16 inch |
| 6 Years | 18 inch |
| 7 Years | 20 inch |
| 8 Years | 24 inch |
| 9-11 Years | 26 inch |
Is Raleigh a good bike brand?
Raleigh was founded in the year 1885 and is known to be one of the oldest bicycle brands in the world. Currently, it might not be at the top right now as compared to its competitors, but they offer quality bikes for everyone.
I would say that their bikes are completely value for money and very underrated. So, yes they are a good bike brand and it offers a lot more than the money you pay. Let's go through some of the pros of Raleigh bicycles. Here they are:
PROS:
Wide range of bikes on offer – Whether it is a road bike, electric bike, hybrid, or mountain bike, they have got you covered with a list of Raleigh bike models. Isn't that impressive?
Budget friendly – You don't have to worry and scratch your head when buying a Raleigh bike. There's a bike for everyone that can fit your pocket without any compromise on the quality.
Longer life – Another reason why Raleigh is a good bike brand is that its bikes last long. They are known for their durability, and you don't have to replace them with a new bike at regular intervals.
Warranty – If anything happens to the bike, rest assured that the bike will be fixed due to its fantastic warranty offers.
List of 7 popular Raleigh bike models
The British bicycle manufacturer from Nottingham has been in the bike business since 1885 with numerous models produced over the years. However, I'll first show you the list of 7 best Raleigh bike models that are very popular among the crowd right now.
1. STRADA X – Mountain Bike
The Strada X is a fine balance between everything in a bike that can move between trails and tarmac. It is a city bike that can be termed as a mountain bike too due to its off-road capabilities. With this bike, you can travel through the trails to the local neighborhood in a jiffy with an impeccable bike ride experience.
The smooth weld frame design gives the bike a sporty look and the 800mm suspension forks are there for you to tackle off-road adventures. In all seriousness, it is an all-rounder and one of the most popular models.
2. Motus Electric Hybrid Bike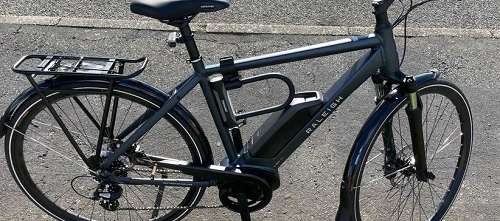 Another bike that can do a lot of things is the Motus electric hybrid bike. With a power-packed Bosch battery, you can easily go for a city ride, mountain biking, and even bike around other roads too. Also, there's a Purion display to let you switch between four separate modes to have a little fun with minimum effort.
3. Motus Grand Tour
This electric bike is known to let you pass through the city at an impressive pace that you wouldn't have imagined. Additionally, the power-assisted pedals give a massive boost to your pedal power to let you have an incredibly fast biking experience.
The hydraulic disc brakes will keep your bike in control along with a smooth ride, thanks to its Active Line Plus Motor.
4. Raleigh Willow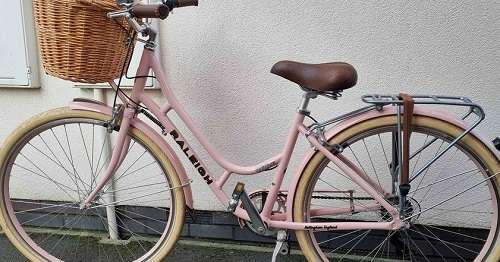 If you're into a classic design with less emphasis on tech-powered bikes, this one should be the ideal bicycle. To bring the vintage feeling, there's even a ding-dong bell and a kickstand for you to travel back in time.
It is a well-designed bike for those who want to feel the breeze of riding around the city and also to tackle the hilly slopes.
5. Pioneer Tour
This hybrid bike is designed and built in a way to let you experience the countryside and even urban cycling. The Pioneer Tour has a lightweight aluminum frame for a fast biking adventure to the trails or different roads.
Additionally, you can without a doubt tackle the rocky terrains with this retro classic.
6. Sherwood Low Step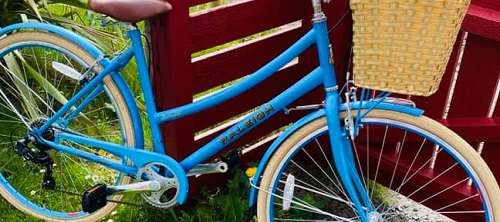 A bike that is well suited for the ladies, the Sherwood Low Step is one of the unique ones produced by the bike brand from Nottingham. If the plan is to ride all over the city without the need for heavy travel, you can opt for this sweet-looking bike.
Additionally, there's a wicker basket to provide a retro look to the bike.
7. Raleigh Bikes Rowdy (for kids)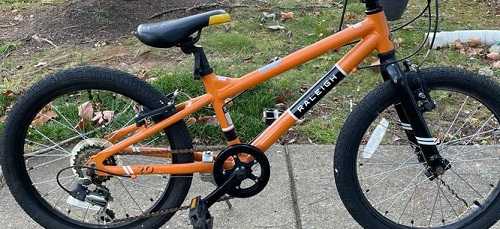 If your kid wants an adventurous ride at an affordable price, the Rowdy seems to be the perfect one as a bike. When it comes to its weight, it is super light and the dual-hand brakes are very responsive for the little one to enjoy the ride.
Additionally, there are three available wheel sizes in the form of 16-inch, 20, and 24 as well.
Other list of Raleigh bike models
These are some of the Raleigh bicycle models from USA, UK, and other countries. The list includes old (discontinued) and new ones –
M250
M350
M150
M650
PLATIMUM
M-TRAX
MXR
ROOST
LIL' HONEY
RC 900 CALEUM
CRITERIUM SERIES
MAVERICK SERIES
MILITIS SERIES
REVENIO SERIES
STRADA
HOPPA
MOLLI
POP
PIONEER
PROPAGANDA
SHERWOOD
STOWAWAY
STOW-E-AWAY
STRIDE
ARRAY
FELIX
CENTROS
MOTUS
BURNER
MISCEO
ROUTE
REDUX
THORX
TALUS
SUPERBE
GALLOP
TEKOA
MY RIDE
THRUSTER
DETOUR
Conclusion
Raleigh bikes have been around for a while now with their humble beginning in the year 1885. To help you find the correct fit, I have given the Raleigh sizing charts for almost every bicycle type. Also, the list of Raleigh bike models mentioned above may help you decide while purchasing one.