Bikes are a fun asset to have with you as they not only help you in short-distance travel but also keep you fit. Similarly, Surly is a brand that stands out with its top-notch steel bikes.
They have an impressive combination of mountain and road bikes with a strong unmatched build to have your adventure. Whether you're planning for a tour, trail, or ride around the pavements, they have an array of bikes to suit your needs.
Moving forward, I'll be talking about the 5 popular bike models and show you the Surly bike sizing guide.
Let's have a look:
Surly bikes size charts
Let me give you a clear idea of what should be the bike size according to a rider's height. The following Surly bike sizing charts can help find the ideal bicycle size for you.
Road, Commuting, Touring, and Gravel Commuter
Models – Cross Check, Disc Trucker (26″ and 700c), Midnight Special, Ogre, Preamble, Straggler, and Wednesday (Trial Bike).
| Rider's Height | Frame Size (CM) | General Sizing |
| --- | --- | --- |
| 5'0″ – 5'5" (152-165cm) | 38-46cm | XS |
| 5'4 – 5'8" (162-173cm) | 50-54cm | SM |
| 5'7″ – 6'0" (170-183cm) | 52-56cm | MD |
| 5'11" – 6'3" (180-190cm) | 54-58cm | LG |
| 6'2″ – 6'6" (188-198cm) | 58-62cm | XL |
| 6'5″ – 6'8" (196-203cm) | 60-64cm | XXL |
Longtail Cargo Bikes
Models – Big Dummy and Big Easy
| Rider's Height | General Size |
| --- | --- |
| 5'0″ – 5'8″ (152-173cm) | SM |
| 5'5″ – 6'0″ (165-183cm) | MD |
| 5'8″ – 6'4″ (173-193cm) | LG |
Model – Skidloader
| Rider's Height | General Size |
| --- | --- |
| 4'11" – 6'0″ (149-183cm) | SM |
| 5'3″ – 6'3″ (160-190cm) | MD |
| 5'6″ – 6'6″ (167-198cm) | LG |
Surly Mountain/Trail bikes
Models – Lowside, Grappler, Ice Cream Truck, Karate Monkey, and Krampus
| Rider's Height | Size |
| --- | --- |
| 4'8″+ (142cm+) | XS |
| 5'0″+ (152cm+) | SM |
| 5'5″+ (165cm+) | MD |
| 5'9″+ (175cm+) | LG |
| 6'0″+ (183cm+) | XL |
5 popular Surly bike models
Since Surly has various models specifically for different customers, I have picked out 5 popular bike models from Surly that stand apart.
1. Surly Straggler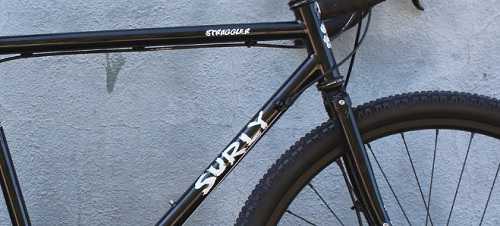 The Surly Straggler is known for its all-round abilities. It can be termed as a backpacking-gravel bike and it has been one of the most popular Surly bikes. It is truly versatile and has been the ideal candidate for cross-over exploration under different conditions.
For a comfortable experience, it has disc brakes to add an x-factor for heavy load touring and off-road adventure. When it comes to handling and durability, it has an unmatched class with a strong build. If you're looking for something comfortable and a bike that can adapt to conditions with ease, the Straggler is the answer for you.
Features –
Accommodations for fenders and racks.
Wheelbase adjustability.
Top-notch disc brakes.
Available Sizes – 650b & 700c
Frame Material – Chromoly Tubing
Tire Size – 41 mm
2. Surly Midnight Special
Midnight Special is an extraordinary bike with complete comfort and offers speed to your long travel rides. Just like other bikes from Surly, it rides smoothly and shines on tough roads and a long stretch of gravel.
The tires are built in a way to tackle road bumps and give you the experience of being a champion biker. The Midnight Special is unfazed by any kind of surface, whether they are a long stretch of gravel, bumpy roads, or rough pavement, you won't be complaining about the experience.
Moreover, it is also one of the most popular Surly bicycles.
Features –
Durable steel frame
It has attachment points for riders to safely have a water bottle cage.
44 mm tapered head tube lets riders use a carbon fork in the bike.
Durable disc brakes for a comfortable ride.
Available Sizes – 650b & 700c
Frame Material – Chromoly Steel
Tire Size – 47 mm
3. Surly Ogre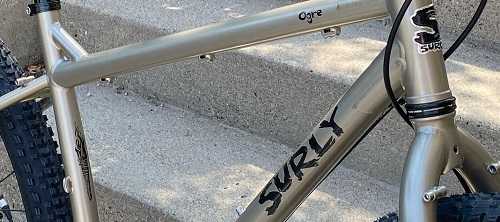 Ogre is a complete classic from Surly, as it is known for its versatility. You can ride your way with this 29-er beast for grocery shopping, bike-packing or any adventure activity. A commuter bike that can take on any conditions in the form of rough roads, humidity, or snow is what everyone wants, and this is where the Ogre shines.
If you're planning for a mountain biking experience, Ogre is the bike for you.
Features
Multiple three-pack mounts & mid-blade.
Offers Gnot-Boost rear spacing.
Impressive clearance for tires with fenders.
Available Sizes – Small, medium, large & extra-large
Frame Material – Chromoly Steel
Tire Sizes – 29" & 27.5"
4. Surly Cross-Check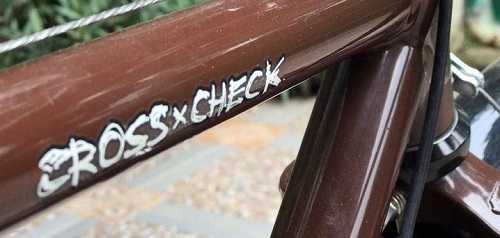 Having been an avid follower myself of bicycles around the world, the Cross-check from Surly highly impresses me for more than one reason. It is a completely customizable bike in which you can add in stuff as per your preference.
Apart from having an amazing speed, it is a mix between a road and a mountain bike. This way, you get to experience the best of both worlds with a comfortable experience. Apart from its versatility, it has a sturdy frame to keep you going without worrying about anything.
Many people have had the Cross-check as their favorite bike for years, and it deserves the title.
Features –
Allows accommodations for front and rear racks.
The Gnot-Rite dropout spacing offers 130 and 135 mm hubs installation.
Wheelbase adjustability.
Available Sizes – 42-64 cm
Frame Material – Chromoly Steel.
Tire Sizes – 700c x 35mm
5. Surly Bridge Club

The Bridge Club is surely one of the expensive bicycles from Surly. What I noticed after going on a couple of bike rides on this bad boy was that it is completely a versatile bike.
Yea, that's nothing new when compared to other Surly bikes, however, there are a couple of features that stand apart from other bike models from Surly. This 700c variant is a big hit among bike lovers with a corrosion-resistant Chromoly steel frame and it is the ideal recipe for a desert ride.
Features –
It consists of five frame sizes.
The handlebar of the bike has a comfortable 17-degree back sweep.
There are a large number of eyelets to offer room for more cargo and bottles.
Available Sizes – 700c Xs, small, medium, large, extra-large.
Frame Material – 4130 Chromoly
Tire Sizes – 27.5"
In conclusion: are Surly bikes good?
Founded in the year of 1998, Surly has come a long way and it is known for their steel frames. Starting it off as a cult brand to one of the most powerful bike makers in the globe, it has been a roller coaster.
Surly offers a variety of different options that are suitable for long touring, pavement, trail, hybrid, etc. Known to be made from Chromoly double-butted steel, all of their bikes are genuinely strong and have a longer life.
One thing that I need to tell you is that Surly doesn't produce enough amount of bikes, but the demand goes way above as compared to the supply. It is not because of good promotion or something, but, it is due to its tough quality and standard of bikes.
If you're looking out for a bike brand that can offer you quality with unique features, I would recommend you to go for Surly.
Surly Competitor – Nishiki