There are going to be a few questions that will be running in your mind while you're about to purchase a Fuji bike. One of the common questions would be, "what size Fuji bike do I need?" To sort this out, you'll have to read the article.
Fuji bikes have a long history of making quality bicycles that goes back to the year 1899. This popular bike brand was founded by Okazaki Kyujiro in Japan, and it began with an altogether different name. The brand was previously known as Nichibei Shokai, and by the time of 1950s, they started selling Fuji Bikes in America.
So, this was a bit of history about Fuji bikes. Coming to the current era, Fuji bikes are popular all over the world with a range of bikes to offer for adventure enthusiasts.
I'll be displaying a detailed Fuji bike sizing chart below and also throughout the article you'll get to know about the 7 popular models.
Fuji bike size chart
The inseam and height of a person are two of the major factors in deciding which bike would suit you. However, there are others too that will determine your choice. Below is the Fuji bicycle sizing chart to give you a clearer idea of which size will fit best.
Fuji mountain bike size chart
For models – Auric, Rakan, Outland, and Bighorn
| Rider's Height | Frame Size | General Size |
| --- | --- | --- |
| 5'2″-5'6″ (157-168cm) | 15″ | Small |
| 5'6″-5'10" (168-178cm) | 17″ | Medium |
| 5'10"-6'1″ (178-185cm) | 19″ | Large |
| <6'1″ (185cm) | 21″ | X-Large |
Fuji road bike size chart
For models – Trasonic, SL, SL-A, Norcom Straight, and Track Elie
| Rider's Height | Frame Size | General Size |
| --- | --- | --- |
| 4'11"-5'2″ (150-157cm) | 46cm | XX-Small |
| 5'0″-5'4″ (152-163cm) | 49cm | X-Small |
| 5'3″-5'7″ (160-170cm) | 52cm | Small |
| 5'6″-5'10" (168-178cm) | 54cm | Medium |
| 5'9″-6'0″ (175-183cm) | 56cm | Large |
| 5'11"-6'2″ (180-188cm) | 58cm | X-Large |
| 6'1″-6'5″ (185-196cm) | 61cm | XX-Large |
| <6'5″ (196cm) | 64cm | XXX-Large |
Fuji pavement bicycle size chart
For models – Absolute, Traverse, Feather, Declaration, Crosstown, Cape May, and Captiva
| Rider's Height | Frame Size | General Size |
| --- | --- | --- |
| 5'0″-5'5″ (152-165cm) | 15″ | Small |
| 5'4″-5'9″ (162-175cm) | 17″ | Medium |
| 5'8″-6'0″ (173-183cm) | 19″ | Large |
| 5'11"-6'2″ (180-188cm) | 21″ | X-Large |
| 6'1″-6'5″ (185-196cm) | 23″ | XX-Large |
Fuji electric bike size chart
For models – E-Jari, Conductor, E-Traverse, and E-Crosstown (each model has different sizing which might confuse you a bit. Refer to the official size chart for a particular bicycle)
| Rider's Height | Frame Size | General Size |
| --- | --- | --- |
| 5'0″-5'5″ (152-165cm) | 15″ | XS-S |
| 5'3″-5'7″ (160-170cm) | 16″ | S |
| 5'5″-5'10" (165-178cm) | 17″ | S-M |
| 5'6″-5'10" (167-178cm) | 18″ | M |
| 5'9″-6'0″ (185-196cm) | 19″/20″ | M-L |
| 5'11"-6'2″ (180-188cm) | 21″/21.5″ | L-XL |
| 6'1″-6'5″ (185-196cm) | 23″ | XXL |
Fuji kids bike size chart
For – Rookie and Dynamite
| Age | Wheel Size |
| --- | --- |
| 3 – 5 years | 12-inch wheel |
| 5 – 7 years | 16-inch wheel |
| 6 – 9 years | 20-inch wheel |
| 7 – 11 years | 24-inch wheel |
I would also recommend you to visit the nearest Fuji bike showroom as the shop staff will help you out in measuring your body geometry and offer you the ideal size.
7 popular Fuji bike models
Since we are done with the Fuji bike sizing chart, let's roll over to the 7 best popular models from the bike brand.
1. Feather

As Fuji is known to be one of the oldest bike brands in the world, you're rest assured to be offered an array of choices. Similarly, the Feather is a classic choice that can suit anyone without being complicated and is an easy bike to ride.
The aerodynamic design does attract a lot of eyeballs with its relatively affordable price. Another thing that impresses me is the frame as it is made up of top-tier metal construction. Moreover, the handlebar features a design that lets the rider lean front while biking, which ensures that the bike and the rider are completely in sync during high-speed biking.
The Feather is a great bike to have and you can switch between using it as a cruise or commuter bike, thanks to its interchangeable drive-train feature. It is a value for money, and the bike lets you enjoy a comfortable ride.
2. Absolute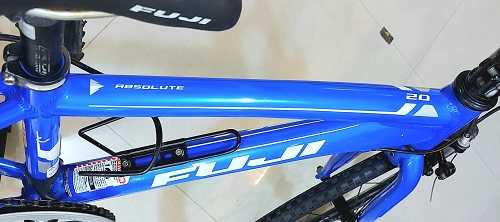 The Absolute has been a favorite of many for many years. In recent times the model has gone through subtle changes in its build to provide better comfort and a fun biking experience to the rider. The Absolute is lightweight and you can maneuver it easily without breaking it into a sweat.
As per numerous test rides, it has been observed that this model is easier to ride up the hills with a speed of 58 km/h as compared to similar bikes providing 57 km/h. It is a comfortable bicycle that can help you zoom through traffic at high speed or even go for a slow-paced bike ride.
3. Nevada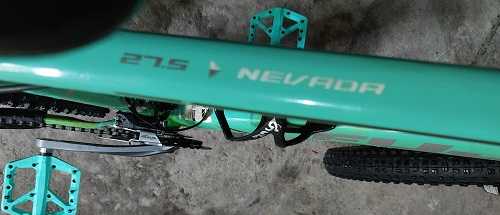 If you're planning to start mountain biking, Nevada seems to be the perfect fit. It is a beginner-friendly mountain bike with tons of impressive features. One thing that I noticed is that this bike does pick up pace in the trails even though it is a bit hefty in size.
Fuji has said that Nevada is for people planning to newly begin with mountain biking and gradually turn into mountain biking enthusiasts. This beast of a bike is your solid partner on off-road adventures, especially If you're new to mountain biking.
4. Jari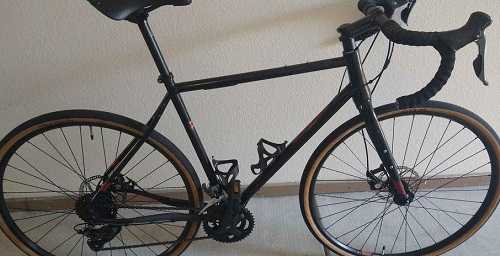 Versatility is the middle name of Jari as it changes its way of operating according to the rider. It is a fun bike for your list of adventures, gravel riding, and even a handy option for long road travel. It comprises a massive frame to keep multiple water bottles or even a bag.
When you talk about the geometry, it is a good-looking bike with the head tube being on the meaty side and the top tube being oval. Additionally, the cables are routed internally and that gives a cleaner look to it. In my opinion, the Jari is a classy gravel bike with a lot of versatility on offer.
5. Sportif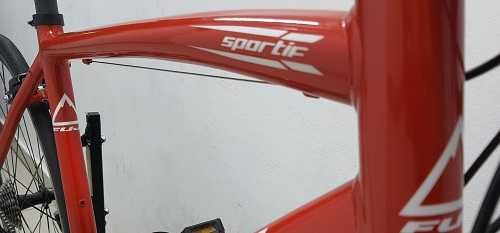 There's a lot to admire about a bike that can do more than one thing. The Sportif can be classified into this category as being a road bike it can be your good friend for a long ride or even casually biking around the neighborhood.
If you're scrolling through the internet for a bike that you can ride every day for a usual bike ride or even longer road journeys, this one is for you.
6. Traverse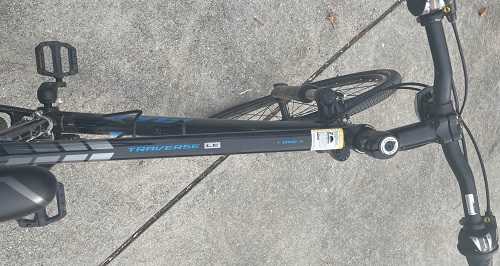 Another popular model that has an ever-growing fan base is the Traverse. This multi-sport bike can do a lot of things in the form of, slow-paced rides, exercising your body by cycling, or maneuvering around the different terrains.
It is impressively lightweight and has disc brakes to give you the ultimate feeling of adrenal rush. It is not only for the city as you can even ride the Traverse around the rocky terrains too.
7. Crosstown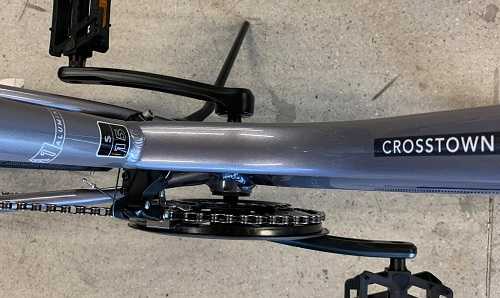 Last on the list is the Crosstown which can be termed an All-rounder due to its magnificent features. If you're into urban commuting, and you also prefer to challenge yourself to different trails, this popular model is ideal.
Crosstown as a popular bike model from Fuji has impressive brakes and maneuvering on it feels like a piece of cake. It also boasts of a 7-speed shifting setup to make your bike ride enjoyable.
People also ask
Are Fuji bikes good?
Yes, absolutely. They are top-quality, and you will find a range of well-made bikes.
Who makes Fuji bikes?
Fuji bikes are made by Advanced Sports International. They are the parent company.
Why are Fuji bikes so cheap?
There are various reasons for that. One of the main factors for being cheap could be cost cutting or even cheap labor availability. However, Fuji believes in keeping the price affordable for its customers.
Where is the serial number on my Fuji bike?
You can find it under the bottom bracket in which the two pedal cranks are joined together.
Closing thought
It is quite astonishing to see a bike brand living up to its quality standards since 1899. Fuji bicycles over the years have tried to keep up with the current technology and they have been successful.
With a long list of bikes on offer, the brand has been going from strength to strength. If you're looking for the correct bike size, go through the Fuji bike sizing chart above to help you.
Before I end this article, what's your favorite Fuji bicycle model?