The average height of women in the United States and Canada is 5'4″ (162.5cm) and the Hispanic female is 5'2″ (157.5cm). In Asian countries like China and India, the average female height is 5'2″. Thus, the demand of bicycles suitable for these two heights is enormous. So, what size bike for 5'2 and 5'4 woman? The answer is pretty simple, but if you are a starter, you need to be aware of a few things like bike types, measurements, and sizing.
This will help you pick the right fitting, comfortable bicycle for yourself. These days, cycling is increasingly popular among females. It's no more only men's sports activity. I'm little above 5'4″ and I regularly hit the road just like my husband.
Without further ado, let's find out the ideal bicycle size for 5 feet 2 inch and 5 feet 4 inch woman.
Bike size chart for 5'2 and 5'4 woman
Ladies, don't get confused with wheel size and frame size. They are totally different and vary in sizes. Kids bicycles are measured by wheel size while adults' are measured by frame length. But, exceptionally in case of 26-inch bike, the number here refers to wheel size. Got it? Below are the frame sizes as per your height.
| HEIGHT | ROAD BIKE | MOUNTAIN BIKE | HYBRID BIKE |
| --- | --- | --- | --- |
| 5'2″ | 47 – 49cm / XS | 13″ – 14″ / XS | 33 – 35cm / XS |
| 5'4″ | 50 – 52cm / S | 14″ – 16″ / S | 38 – 40cm / S |
| Both 5'2″ & 5'4″ | NA | 26″ Wheels (if the brand uses wheel diameter for sizing) | NA |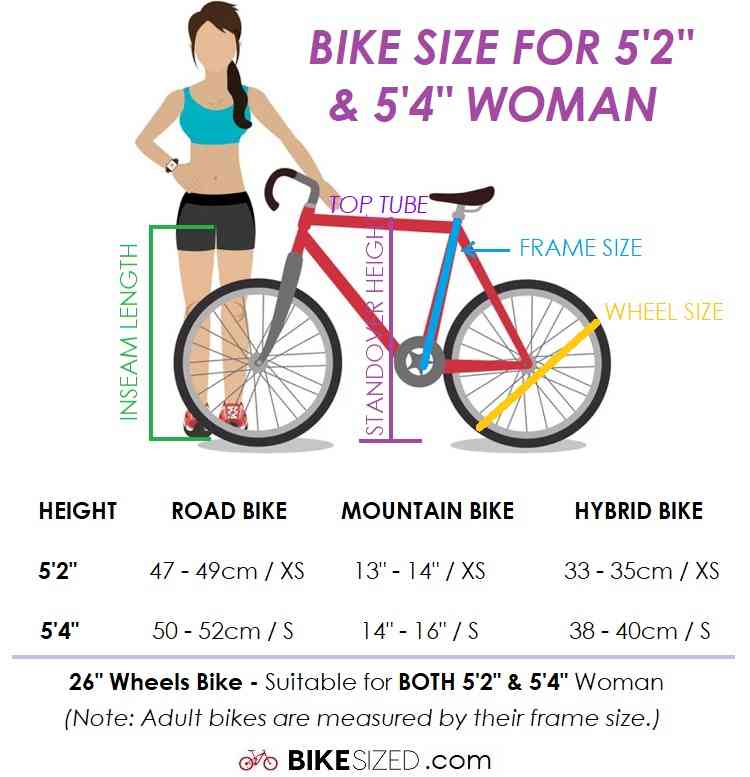 | | |
| --- | --- |
| Popular 24″/26″ bike example | sixthreezero Around The Block Cruiser Bike (CHECK PRICE) |
Bike basics for women: making things more simpler –
Road bike – as the name suggests, a road bike is best suitable for commuting and riding on paved surfaces.
Mountain bike – an MTB or an off-road bicycle is designed for use on mountain trails, unpaved and bumpy roads, and rough terrains.
Hybrid bike – aka fitness or cross bike, an hybrid bike has qualities of both road and mountain bicycle and can be ridden on and off roads.
Sizing may differ according to manufacturers. Some may simply use SMALL, MEDIUM, or LARGE like clothes, while some use the exact frame sizes – 50cm, 52cm, 16″, etc.
Most bikes are unisex. You are not obliged to consider only women specific bike.
Know your inseam length – it's the distance from your crotch to the ground. Some brands may size bikes according to rider's inseam for more accuracy.
26-inch wheels youth bike is more common these days and it fits shorter women. A 5'2″ and 5'4″ woman can opt this size too.
Wider saddle – not necessary but a bicycle that comes with bigger and wider saddle may be more comfortable to you than the standard one.
Wear cycling-specific shorts and underwear. They are mostly made of antibacterial fabrics and offer extra padding for comfort.
Voila! Now you know what size bike for 5'2 and 5'4 woman is and what bicycle type you should pick. In case you'd like to explore more – Bike Size Charts For Men, Women, And Kids.
FAQs
Is a 24-inch bike too small for 5'2 and 5'4 woman?
The answer is NO. However, a 24″ wheels bicycle is typically made for kids or teens (12 – 19 years) and it may not be safe and comfortable for an adult woman to ride. Children bicycles often have smaller and lighter components, narrower handlebars and seats, and are designed to fit the proportions of youth. So, a 24-inch bicycle is not recommended for a 5.2 ft and 5.4 ft woman.
Can a 5 feet 2 inch woman ride a 26-inch bike?
Yes, a 26″ mountain bike is a good match for a female who is 5'2″ tall. Basically, a woman with shorter or average height can comfortably ride a bicycle with 26-inch tires. When it comes to bike sizing by age, a 13 year+ grown-up teenagers and adults can still go for this size as well.
What is the perfect bike size for a 5'2 woman?
The ideal bike size recommended for a 5'2″ female is 47 – 49cm for road bike, 13″ – 14″ for mountain bike, and 33 – 35cm for hybrid bike. Most brands generally use XS (Extra Small) for bicycles in this size range. Having said that, I advise you to go through the manufacturer's official size chart if you are buying online.
What is the ideal bike size for a 5'4 woman?
As per the standard rule, the correct bicycle size for a 5.4 ft female is 50 – 52cm for road bike, 14 – 16″ for MTB, and 38 – 40cm for hybrid bike. All these sizes typically belong to S (Small) category. If we talk about the popular "26-inch bike", it is appropriate for both 5'4 and 5'2 woman.
Recap
The average height of women in many parts of the world is 5'2 and 5'4. So, if you fall in the category of these two heights, it won't be difficult to get a bicycle that suits your body and riding style. Don't restrict yourself in choosing only female-specific bicycle. As you are now familiar of bike types and measurements, your best approach in finding the best fitting bike is to finalize the brand and bike model, and walk though the official chart. As simple as that!
If you are visiting a store, that's even more easier. Climb on every bicycle and test ride with the help of fitting experts until you find the most comfortable one of your choice.
Related – Best Electric Bikes For Short Female