Your son or daughter is around three years old and you have decided to let the little one have a bicycle of his own. But, what bike size is ideal for a little 3-year-old kid? Take a deep breath as I have things sorted out for you. Remember, comfort and lightweight are the two crucial features you should look for in a kid's bike.
Generally, a 12-inch or 14-inch bike is perfect for kids up to three years of age. If they are above the age of three, you might go for a 16-inch one. However, age isn't the only thing you need to consider when choosing the right-sized bicycle for children. Experts say, height and inseam are more important than the age.
Can a 3-year-old ride a bike?
Yes! It is quite normal for a 3-year-old to ride a bike. On average, most kids start learning to ride a bike at the age between 3 to 7. Some kids start riding a bike even before the age of 3, and others might learn a bit later.
I see no reason why a 3-year-old won't ride a bike. Yes, it would depend upon their interest, but it is completely fine for a 3-year-old to ride a bicycle.
What size bike for 3-year-old?
12-inch and 14-inch bikes are the most suitable sizes for 3-year-olds. In rare cases, when the child is bigger and heavier than the average 3-year-old, a 16-inch bike can be a better option. To avoid any confusion, I recommend you to determine your child's bicycle size as per height and inseam, instead of age.
Have a look at the below chart and decide which bicycle size fits your kid. Don't forget to measure the height and inseam of your child first.
| Wheel Size | Child's Height | Age | Inseam |
| --- | --- | --- | --- |
| 12 inch | 2'10"-3'4″ (85-100cm) | 2-3 | 14″-17″ (35-42cm) |
| 14 inch | 3'1″-3'7″ (95-110cm) | 3-4 | 16″-20″ (40-50cm) |
| 16 inch | 3'7″-4'0″ (110-120cm) | 5-6 | 18″-22″ (45-55cm) |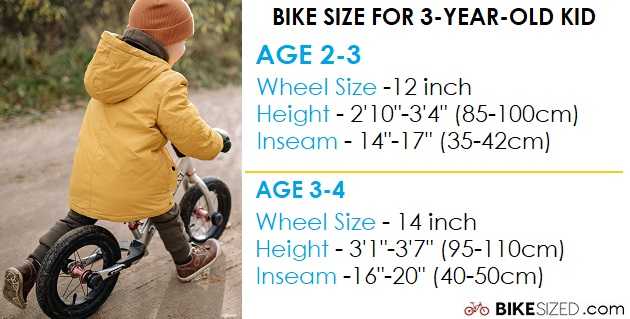 Balance bike or three-wheels bicycle for 3-year-olds?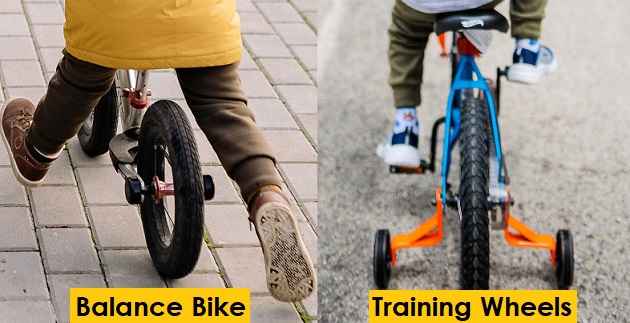 Which bike type parents should choose for their kids is a common question. First of all, you have to get a balance bike for a 3-year-old in the beginning. A balance bike can teach your child to balance a bike at a much faster pace as compared to a bike with training wheels.
Learning to ride a bike on training wheels is easy, but it has been an old-school concept.
After mastering a balance bike, the transition to a pedal bike is going to be seamless for the kid. It would hardly take any time to shift to a pedal bike with ease. So, I highly recommend you to choose a balance bike instead of a three-wheels bicycle.
Advantages of a balance bike
Getting a balance bike can help your kid learn to ride a bike much faster and the transition to a pedal bike won't be a difficult process at all. There are many reasons why you should get a balance bike instead of training wheels for your kid.
Let's check them out:
| | |
| --- | --- |
| Offers independence to kids | Since you can do a lot of things with a balance bike, you can get to see the kid walking with the cycle or on a different day sliding down a hill with their feet up. It offers your kid more flexibility and movement. |
| Easy transition to a pedal bike | When a 3-year-old wants to try out a pedal bike, it would be a smooth transition as the kid would hardly take time to adjust to the big pedal bike. |
| Lightweight | As compared to training wheels, balance bikes are lighter in weight and give the freedom of moving around as per the rider's wish. They are more flexible as they are lightweight when you compare them with training wheels. |
| Ability to ride on different terrains | That's right! Balance bikes can easily ride on different terrains with ease in the form of gravel, skate parks, and trails. The same can't be said about bikes with training wheels. |
| Allows kids to get used to steering | With a balance bike, a kid can be easily accustomed to steering or maneuvering. |
| Better control | Kids can learn to control their speed and also get to know how to shift their body weight when encountering road turns ahead. This might not be possible for kids on training wheels as most of the kids would be afraid to shift their body weight during turns. |
Why you should buy a bike for your 3-year-old?
Having a bike for the kid can bring a wholesale amount of changes in them. They'll get to know about the outdoors, how to balance while riding, and also a bike is a great tool for improving the hand-eye coordination of the child.
We all know that cycling keeps everyone fit and healthy. The same applies to a child as well. When they know how to ride a cycle, they will be keen to go out and will not be staying indoors.
In the era of online games, get your child a bike to let them learn about the outside world and also to keep them physically active.
Bonus tip – Handlebars on a balance bike or training wheels play a major role. It is very important to have a longer reach, so that the little ones do not need to bend and they can easily be in an open arched position. If the bars are quite close to the saddle, it can create an uneven and uncomfortable riding experience. You would never want that for your 3-year-old kid.
Recap
The burning question that you would see parents asking on different online platforms is, "what bike size should I get for my 3-year-old son/daughter?"
Purchasing a 12-inch or 14-inch bike should be perfect and you're good to go. Also, I would prefer to start with a balance bike as it lets a child learn faster and teaches them more ways of handling a bike.
Training wheels aren't bad in my opinion. The only thing about them is that they are old-school and are a rigid way of learning to ride a bike for your kid.
Child turning four? Go through this – What Size Bike For 4 Year Old?