It is difficult to buy some of the items online and bike is one of them. Though buying bikes online is popular, estimating the correct bike size for our needs is a bit of a challenge. You must be wondering for what height and size is a 54cm/55cm bike. Don't worry, I'm here to explain.
It's easy to estimate the bicycle size you need if you know your height and inseam length.
In this post, we'll be discussing 54-55cm bikes and guide you to determine if the bike is right for you. As we explain in detail below, your height is the biggest factor that determines the bike you'll be comfortable with.
What does a 54cm/55cm size bike mean?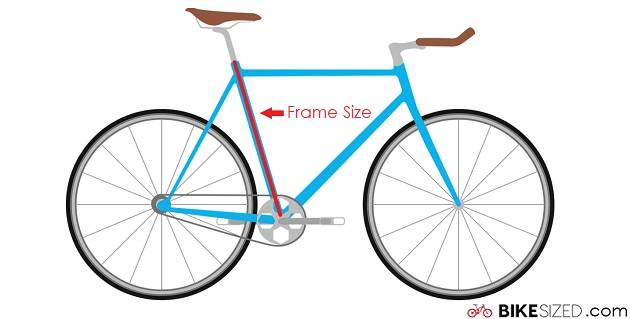 54-55cm refers to the frame size of a bike. The 54-55cm bike size typically falls in the category of medium (M) or large (L) sized model, depending on the bicycle types and manufacturers.
Normally, a person who is 5'6" to 5'9" (168cm- 175cm) tall will find this bike size to be the right one. But again, it depends on the bicycle type. An MTB with this frame size would be meant for people above 6 feet tall.
Unlike kids' bikes which are sized as per the wheel diameter, the adult bicycles are measured as per the frame size. For mountain bikes, some brands even use 'inch' unit for the measurement. So, don't get confused.
Bikes come in different shapes and sizes. For example mountain bikes and sports bikes are good when riding on mountains or for racing. Cyclocross and hybrid bikes are great for everyday use.
You can pick any bicycle you like, but for safe and enjoyable riding, choosing a correct wheel and frame size is important.
What height and size is a 54-55cm bike frame for?
The standard 54cm to 55cm bike frame size supports a rider who's about 168cm to 175cm tall or 5'6″ – 5'9″.
In case of mountain bike, a 54-55cm bike frame will be suitable for tall people from 6'1″ – 6'6″ height.
There are varieties of bicycles for different purposes and this makes the sizing little different from each other. Also, brands may use different sizing method as well. Let's have a look at the below table for what height and size is a 54-55cm bike frame for:
| Bike Types | Rider Height | Suggested Frame Size | Sizing |
| --- | --- | --- | --- |
| Mountain Bike | 6'1″-6'6″ | 53-56cm | L/XL |
| Road Bike | 5'6″-5'9″ | 54-55cm | M |
| Hybrid Bike | 5'7″-5'9″ | 53-55cm | M/L |
| City Bike | 5'7″-5'9″ | 52-55cm | M/L |
It doesn't matter you're buying a road bike, a mountain bike, or a hybrid bike. The decision on the right bike frame size for you depends on your height and inseam. Some people go to the extent of visiting stores to figure this out, but that is not necessary. Simply, measure your height and inseam at your home to figure out which bike frame size is perfect for you.
Ideally, a right sized bicycle should give you 1-2 inches gap between your crotch and the top tube while standing over it. This gives you enough moving space.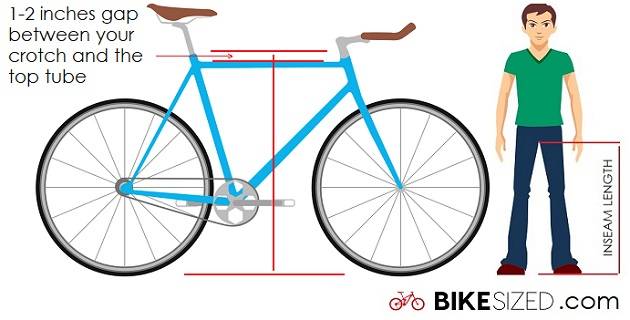 At this point, I'd like you to remember this.
Bikes for women have tiny structural differences, especially the all-purpose bikes. A unisex bike is longer, has wider handlebars, and a has a bit larger frame size. Female bikes tend to have narrower handlebars and shorter stack height and 'reach length' apt for the female body. The meeting seat tubes are positioned little lower.
However, despite these small differences in the bicycle, the height requirements don't change much.
People also ask
Is 54-55cm bike a medium size?
It depends on the bicycle brand. The standard 54-55cm bike is for people with an average 5'6″ – 5'9″ height and is a medium size bike. When it comes to mountain bike, it will be sized as large or extra large.
Is 54-55cm road bike too small for 6ft+ tall people?
At best, the tallest persona a road bike can support is someone of a 5'9″ height. For anyone taller, the bike will feel small.
What are some of the popular 54cm and 55cm bike models?
54cm – Specialized Allez 54cm, Cannondale Synapse 54cm, Cervelo S5 54cm, Trek Domane 54cm, Santa Cruz stigmata 54cm, Cervelo Aspero 54cm, and Trek Emonda 54cm
55cm – Bianchi 55cm, Lemond Zurich 55cm, Merida Crossway 55cm, Ritchey Road Logic 55cm, Aventon Mataro 55cm, and Kestrel Talon 55cm
What happens when you choose the wrong size?
A wrong size bike is problematic. People riding the wrong size bikes often report backaches, pain in their shoulder, or radiating pain in the neck or elbow. The bikes do not perform better. Also, you get lower control and visibility.
Further reading – Bike Size For Heavy, Big People
In conclusion
This sums up our post on 54-55cm bicycles, who is it for, and what frame size you need to know before buying a mountain bike, a road bike, or a hybrid bike.
As I've mentioned above, 54cm or 55cm refers to the size of the frame and not wheel diameter. Brands may use different sizing method for each bike type. Consider going through their size charts for selecting the correct bike size for your height.
But the standard measurement remains the same. A typical 54-55cm bike is for riders who are 5ft 6inch – 5ft 9inch (168 – 175cm) tall. In case of mountain bike, it would be ideal for people above 6 feet.