The best bicycle size for an average 4 year old boy or girl is either 14 inch or 16 inch wheels. But, the height and inseam length of a child is another important factor when determining the perfect fit. Kids grow at different rates and have different capabilities. Some may find pedal bikes more comfortable and some may not.
Here, I'll quickly guide you which bike size and type you should get for your little one.
Bike size for 4 year old boy or girl by height & inseam
| BIKE SIZE (WHEEL) | KID'S HEIGHT | INSEAM |
| --- | --- | --- |
| 14 inch | 3'1″-3'7″ (95-110cm) | 16 – 20 inch (40-45cm) |
| 16 inch | 3'7″-4'0″ (110-120cm) | 18- 22 inch (45-55cm) |
The above chart is all you need to get a suitable bicycle for your 4 year old buddy. And, in case you don't know how to measure his/her inseam length, look at the image below –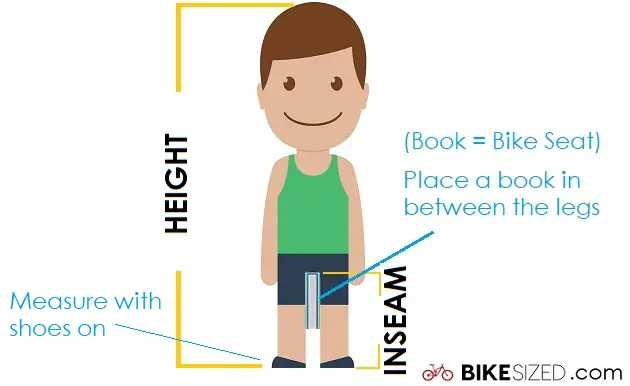 If you are still confused about the kid's bike measurement, sizing, and bicycle types, then have a look at this definitive guide – Bike Size For Kids By Age & Height.
Best bike type for 4 year old – balance or pedal?
I got my kiddo a bicycle with training wheels when he turned 3. It was a wrong decision. A balance bike would have been a better choice, so that he could transit to a pedal bike pretty easily. So, from my experience, get either a balance or pedal bike (without wheels) for your 4 year old.
Balance bike – If your child is shorter than the average height, and isn't familiar with a bicycle yet, introduce him/her with a balance bike so that can he can learn to steer and balance. Later on you can switch to a pedal bike/put on the pedals when he builds up her confidence, skills, strength, and love for cycling. If your kid still struggles while pedalling, you can take off the pedals too.
Pedal bike – If your kiddie is a beast and is super comfortable with the balance bike from younger age, definitely go ahead with a 16″ pedal bike. It won't take much time for him to coordinate his feet with the pedals, and ride on his own.
Voila! Now, you know what size bike is for a 4 year old and the bicycle type you should gift your child.
Tips for selecting a bike for 4 year old girl or boy
Choose a light-weight one – Children find a heavy bicycle difficult to maneuver and pick up.
Know the standover height – There should be at least an inch gap between the top tube and the crotch (inseam length) for the child to feel more confident.
Can your child straddle the bike with flat feet? This is crucial because if the standover is too big, your child will stand on tip toes, thus, making it more difficult to stop/control the bike.
Avoid training wheels – This will make the whole riding experience more discouraging, slow, and complex.
Avoid bikes with extra accessories – A bike with rack, fenders, kickstand, gears etc. will only make the bike more heavier, and also more expensive.
Parents also ask
Is 16″ bicycle too big for a 4 year old?
It depends. If your child's inseam length is 18 inch plus or if he is a bit taller than the average kid, a 16 inch bike will perfectly fit him. But make sure that there is at least 1 inch gap between the top tube and the inseam length/crotch. Remember, a 5 or 6-year old can still ride a 16″ bike comfortably. So, age is not the only criteria while selecting the right sized bicycle for a four year old child.
Should a 4 year old be able to ride a bike?
Definitely YES! Most children can properly ride a bike from the age of three. My daughter could pedal her first bicycle with training wheels when she was three. From 4 to 5 years, kids will slowly be able to ride a bike without stabilizers.
Can a 4 year old ride an 18 inch bike?
No. An 18 inch wheel bike will be more suitable for 7-9 year old kids. Some parents make a mistake by buying a bigger bike thinking that it will last longer as children grow faster. Don't ever do that. It will not only ruin the child's bicycling experience, also it may lead to accidents.
4 year old boys vs girls bike – are they different?
Technically, kids bikes are unisex, but some manufacturers target a specific gender by offering a variety of colors and prints that look appealing. For example, a girl's bicycle may come with flowery paintings while a boy's one may have Spider Man print.
PS – Have your child wear a properly-fitted helmet when on ride. And always ride on bike paths, sidewalk, or protected lanes.
Related reading – Bike Size For 3-Year-Old