Huffy has been around for a while in the market. There's no doubt the brand is one of the most competent bicycle makers in the United States with a range of bikes on offer. Huffy believes in making affordable bikes for people without compromising on their accessories and quality. However, there's a debate among people whether Huffy bicycles are suitable for professionals or just for a fun ride.
You'll get to know about what the brand is currently focusing on by going through the article. For now, I'll term it as a bike brand that produces quality bicycles and is also known to be an entry-level beast. Keeping this aside, having a look at the Huffy bike sizing chart is important in case you want to get a bicycle from this particular brand.
Huffy bike size chart
To experience a bike ride that you might have imagined in your head, where you feel comfortable without any problem, doing a slight research is very important. So, what is the research about? Come on! If you're getting a bicycle for yourself, wouldn't you want to check whether you'll properly fit in it or not?
Going through these Huffy size charts will help you choose the correct bike size. Remember, Huffy bicycle sizes are mostly given as per the wheel size, for both adults and kids.
Huffy bike size chart for men/women
Category – Comfort, Cruiser, Mountain, and Electric
| WHEEL SIZE | RIDER HEIGHT | SUGGESTED INSEAM |
| --- | --- | --- |
| 24 Inch (15″ Frame) | 58″-70″ (4.8 ft – 5.8 ft) | Min 27″ |
| 24 Inch (16.75″ Frame) | 58″-70″ (4.8 ft – 5.8 ft) | Min 27″ |
| 26 Inch (15″ Frame) | Min 60″ (5 ft) | Min 28″ |
| 26 Inch (17″ Frame) | Min 60″ (5 ft) | Min 29″ |
| 26 Inch (17.5″ Frame) | Min 60″ (5 ft) | Min 29″ |
| 26 Inch (20″ Frame) | Min 60″ (5 ft) | Min 33″ |
| 27.5 Inch (17.5″ Frame) | 70″+ (5.10 ft+) | Min 28″ |
To know the bicycle size according to your exact height and inseam length, go through this guide – Bike Size By Inseam.
Huffy bike size chart for kids
Category – Tricycle, Balance, and BMX
| AGE | WHEEL SIZE | RIDER HEIGHT |
| --- | --- | --- |
| 3-5 | 12 Inch | 37-42 inch (3 ft – 3.5 ft) |
| 4-6 | 14 Inch | 39-44 inch (3.25 ft – 3.66 ft) |
| 4-6 | 16 Inch | 42-48 inch (3.5 ft – 4 ft) |
| 4-8 | 18 Inch | 42-49 inch (3.5 ft – 4.08 ft) |
| 5-9 | 20 Inch | 44-56 inch (3.66 ft – 4.66 ft) |
| 12-19 | 24 Inch | 58-70 inch (4.83 ft – 5.83 ft) |
Are Huffy bikes good?

If you're in the biking scene for a while or you casually like bikes, you must have heard about Huffy. They have been a well-known brand for numerous years with a heck lot of experience in making bikes for adults and kids too.
What I like about them is that they not only focus on their bicycles, but they also put equal emphasis on the accessories. Moreover, due to their durable bicycles, they are loved by bike lovers that come in an affordable and attractive price range.
However, there are different perspectives of people about their bicycles. Most of the aggressive-natured bikers do not identify themselves with Huffy as the company does not make a game-changing bike or competent bike for professionals. Since Huffy is heavily reliant on entry-level bikes, it doesn't excite people who are technically sound about top-notch bikes.
Coming to the defense of Huffy, they make quality bikes and accessories that are loved by people all over the world. Some of the bikes they produce are electric, cruiser, BMX, comfort, and even mountain bicycles.
So, 'Is Huffy a good bike brand?' My answer is an affirmative yes, as they offer quality with a range of bikes. Even though they aren't much into high-end bikes, the entry-level and mid-range bikes from Huffy are top-tier.
Related – Huffy or Schwinn?
The good about Huffy bikes
There are the good, and the bad in everything, so let's go through the pros and cons.
Affordable
Huffy is famous for making bicycles that fit your pocket, which has resulted in gaining a large fan-following of the bike brand. It is not only about affordability but the quality they provide and with good warranty offers.
For those who do not want to spend more, yet want quality, you need to purchase a Huffy bicycle.
Range of bikes
Cruiser, comfort, electric, mountain, and even kids bikes are produced by them to suit the needs of different demographics. You do not have to worry, as there are quite a few types of bicycles to choose from.
Low-cost maintenance
Another striking thing about Huffy bikes is that most of the bicycle parts can be easily available locally. Also, the spare parts don't cost a lot which results in a low maintenance cost.
Comfortable
Comfort is the middle name of this bike brand as the aluminum frames provide durability and also the quick-release seats allow bike riders to adjust the height of the seat as per their comfort. In terms of comfort, they are way above par excellence.
The drawbacks
Not ideal for professionals
There's no doubt that they make bikes with quality being of utmost importance. However, the build and heaviness due to steel frames have been a major drawback for not being able to compete in the professional scene.
Assembling can be tough
A disappointing thing about their bicycles is that they do not come in pre-assembled as compared to other bikes. So, you will have to do the hard way of assembling them from scratch.
Unable to perform well in certain terrains
Some of the bikes fall behind in terms of performance on gravel or rocky terrains.
Poor suspension system
There have been complaints about its mountain bikes having a poor suspension system, resulting in a bad experience for bike lovers.
Huffy bikes range with models
Known to be in the business since 1892, they make a range of bicycles for different audiences. Let's check out the various ranges of bikes produced by Huffy.
1. Mountain bike for men and women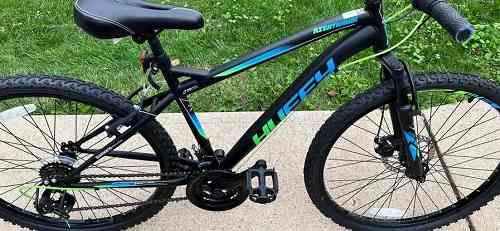 Mountain bikes are the perfect answer to take on adventure challenges of the hills. The high-quality frames and dual suspensions are offered to let you enjoy the thrill.
Models – Extent Men's Mountain Bike, Scout Men's Mountain Bike, Stone Mountain Women's Mountain Bike (24 inches)
2. Kids bike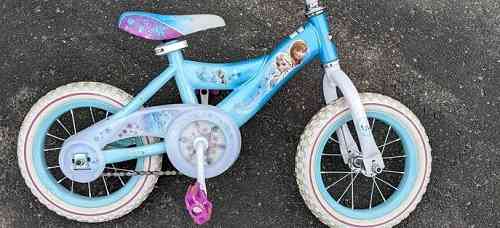 There is a lot to choose from for kids with balance bikes, character bikes, tricycles, and kid's bikes for your little one to learn the art of riding a bike at a faster rate.
Models – Disney Frozen 2 Kids (Balance Bike), Glimmer Kids Quick Connect Bike (12-inch Bike), Disney Pixar Toy Story Bike (Character Bike), Disney Mickey Mouse Kids Tricycle
3. Electric bikes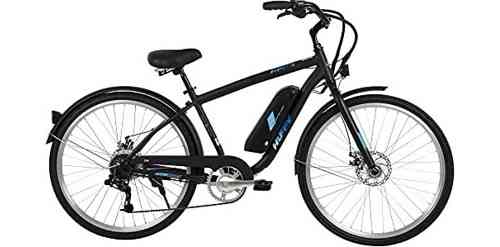 The next-level ranges of bikes that need to be in your house are the e-bikes from Huffy. They provide an impressive pedal-assist feature to flaunt in every terrain with an amazing warranty for its bikes. Feel the rush by going the electric way!
Models – Motoric Adult 20" Electric folding bike, Panama Jack 26-inch Women's Fat Tire Electric Bike, Everett + Men's Electric Comfort Bike
4. Cruiser bikes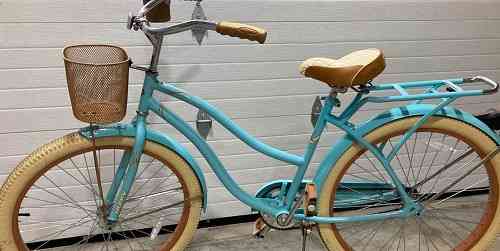 These cruiser bikes are meant to hit the road with comfort at your own leisure pace. If you're going for a fun ride, pick up a Huffy cruiser bike and ride around the city.
Models – Woodhaven Men's Cruiser Bike, Deluxe Women's Cruiser Bike (24-inch)
5. Comfort bikes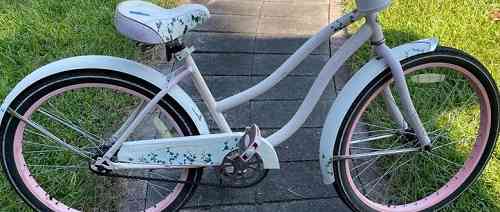 They might look chill, but they do provide extra durability with additional gearing and wide tires to take on long-distance travel + hilly areas.
Models – Sienna Men's 7-Speed Comfort Bike, Terrace Men's Comfort Bike, Hyde Park Women's 7-Speed Comfort Bike
6. BMX bikes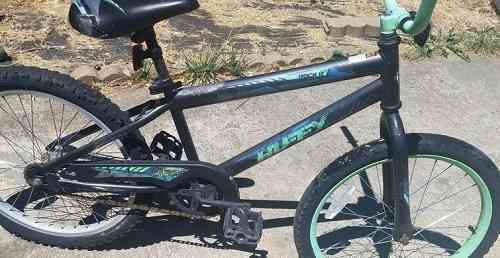 BMX bikes are ever popular to grab eyeballs with their stunning look and build quality. If you want to flaunt a BMX bicycle and impress people in your local bike park, there are quite a few options offered by Huffy.
Models – Symbol Freestyle BMX Bike, Enigma BMX Race Bike, Revolt BMX Bike
Final thoughts
Huffy is a fantastic bike brand that has been operational since 1892. They do enjoy a massive fan following due to their sheer excellence in providing quality bikes at a pocket-friendly budget. Since you can choose from a wide range of bicycles, people from different walks of life rate the brand quite high.
Is Huffy a good bike brand? Yes! Even though Huffy bicycles are not known widely as professional bikes, their entry-level and mid-range models make it up and are respected among bike enthusiasts.
I'm a fan of how they have been still making quality bikes of different ranges. Here's my question – have you owned a Huffy bike? Let me know your thoughts.