Cruiser bikes (aka beach cruisers) are great for casual rides on the beach, paved paths, promenades, side walks, cruising around neighbourhood, and commuting around town. They have relaxed upright geometry and are available in variety of sizes suitable for riders of all heights. So, what size cruiser bike do I need?
Pretty simple to find out! You know what, beach cruisers are measured differently from road or mountain bikes. Like kids bike sizing, most cruiser bicycles are sized according to the diameter of the wheels and usually they have only one size per model.
When you are on a beach cruiser, you should be relaxed and comfortable while pedaling. To achieve that, you should choose the best fitting cruiser as per your height, weight, or age. Below is the beach cruiser size chart that will help you find your right buddy.
Cruiser bicycle size chart for women, men, and kids
Below recommended sizes or height may slight vary according to the manufacturers' cruiser frame designs, measurement, and geometry. Take it as a general cruiser sizing guide only.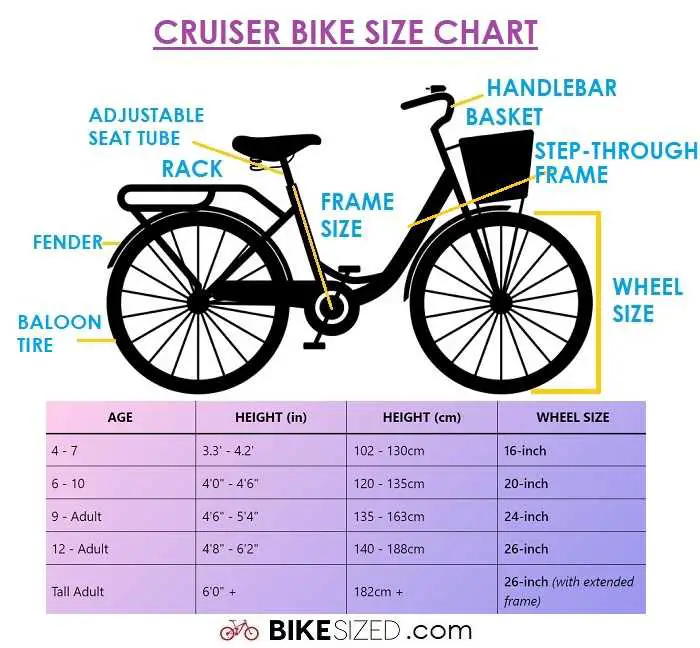 | AGE | HEIGHT (in) | HEIGHT (cm) | WHEEL SIZE |
| --- | --- | --- | --- |
| 3 – 5 | 3'0″ – 3'5″ | 95 – 110cm | 14-inch |
| 4 – 7 | 3.3′ – 4.2′ | 102 – 130cm | 16-inch |
| 6 – 10 | 4'0″ – 4'6″ | 120 – 135cm | 20-inch |
| 9 – Adult | 4'6″ – 5'4″ | 135 – 163cm | 24-inch |
| 12 – Adult | 4'8″ – 6'2″ | 140 – 188cm | 26-inch |
| Tall Adult | 6'0″ + | 182cm + | 26-inch (with extended frame) |
Cruiser bike sizing notes:
Beach cruisers come with adjustable features and different configurations. So, wheel size is the only way you can correctly determine their sizes.
Most 24″ and 26″ cruiser bicycles have 15″ – 21″ frame.
There isn't much differences between men and women's cruiser when it comes to sizing and geometry.
Women may feel more comfortable on a cruiser with wider saddle and narrower handlebars.
Cruiser bike not fitting properly? You can adjust the seat and handlebars as per your riding preferences.
If you are an adult of 5 feet or above, I recommend you to go for 26″ wheel size.
24″ beach cruisers are tailored for kids and shorter adults under 5 feet.
Some companies also offer beach cruisers of 27″ – 29″ tire size.
Cruiser bicycles are more heavier than the traditional bicycles.
Beach cruiser choosing guide
1. Step-through vs step-over cruiser

Step-through bicycle is best for leisure riding and city commuting. That's why many beach cruisers come with step-through design. They are easier to mount and demount, and more handy when you are in a skirt or dress. Step-through looks feminine and is always associated with girl. But, nowadays you'll see many men rocking in step-through bikes, especially in Netherlands. There are many beach cruisers with step-over or horizontal tubes as well. So, you can pick any according to your preference.
2. Single speed or gears
Most cruiser bicycles are single speed, which makes them simple to ride and maintain. This type of bike is ideal for cruising around, and not for racing or climbing hills. Thus, a single gear is enough. But, if you are too conscious about speed or thinking of going up the mountain once in a while, you can opt for the one with three or seven gears.
3. Brakes
You'll find a beach cruiser either with coaster brakes or hand brakes. And the price will differ accordingly. Coaster brakes (aka back-pedal brakes) are sufficient if you are not going for a long distance or if you are just riding on a plain road. They are cheaper. However, I suggest you to go for hand brakes (rim or disc) as they are safer and provide efficient braking when riding in city traffic, bad weather conditions, and hilly areas.
4. Weight and frame material
Beach cruisers weigh more than regular bicycles, but this isn't going to be an issue unless you are going up the mountain. You can still remove the fenders, basket, and racks to reduce the weight of the cruiser. Lighter bikes are of course more easier to handle. Frame material is another important factor when it comes to the weight of the bicycle. Cruiser bicycle with aluminum frame is lighter than the one with steel frame but the latter one is more durable.
5. Electric cruiser bike
If you are looking for an all rounder bike then cruiser e-bike is another great option. It is not just for cruising at the beach or city side, but also for commuting a long distance to work or climbing up the hills with less effort. E-bikes are getting a lot of attention these days. According to a Deloitte study, electric bikes are even more popular than electric cars, scooters, and motorcycles. They are way more costlier, but offer a lot of benefits.
I have covered a lot about e-bikes. If interested, you can jump into this article to know more – best electric bike for short female.
People also ask
What's the tire size of beach cruiser?
The standard beach cruiser tire size is 26-inch for adults and typically fits people who are between 4'8″ – 6'2″. The next available wheel/tire size is 24″ and accommodates kids and adults who are below 5'4″. Then comes 20″, 18″, and 16″ which all are designed for children.
What's the maximum weight limit of beach cruiser?
Many beach cruisers have maximum weight capacity of 300lbs (136kg). For example, popular cruiser models like Electra Cruiser 1 and sixthreezero EVRYjourney can all take up to 300lbs. But, some electric cruisers are able to support up to 400lbs (181kg). So, whether you are looking for a cruiser bike for plus size woman or an overweight person, there are many options that can handle the weight.
Can a 6 feet man ride a 26 inch cruiser bike?
YES! A 6 feet man can definitely ride a 26″ beach cruiser. However, if you have longer legs/inseam than the average tall men, then you may also consider an extended frame. Some brands like Electra do offer 26″ wheel cruisers (26 Tall) specially designed for such people with longer seat tube and standover.
Is there any difference between men and women's cruiser bicycle size?
Some brands market women specific cruiser bicycles but there are little to no difference between men's and women's beach cruiser bikes. Women's cruiser models may come with feminine color, front basket, step-through frame, slightly shorter tube, etc. A woman can comfortably ride a man's cruiser bike as long as it fits her.