Bike sizing plays an imperative role in letting you know what size of bike shall be apt for a child in terms of age and height. Generally, the size of a kid's bicycle is determined by the wheel diameter. This is somewhat different when we take the case of adult bikes, as they focus on frame size (seat tube length) specifically.
Kid's bicycle sizes can range from 12-26 inches wheels. So, depending upon the height and inseam of your child, you should decide the correct size accordingly. But remember, the wheel size isn't the only factor you should consider while choosing the best bike for your boy or girl. There are other factors too, that I will let you know in this article.
Bike size chart for kids
Below is the bicycle size chart for boys and girls by age and height (in inches & centimeters). Have a look –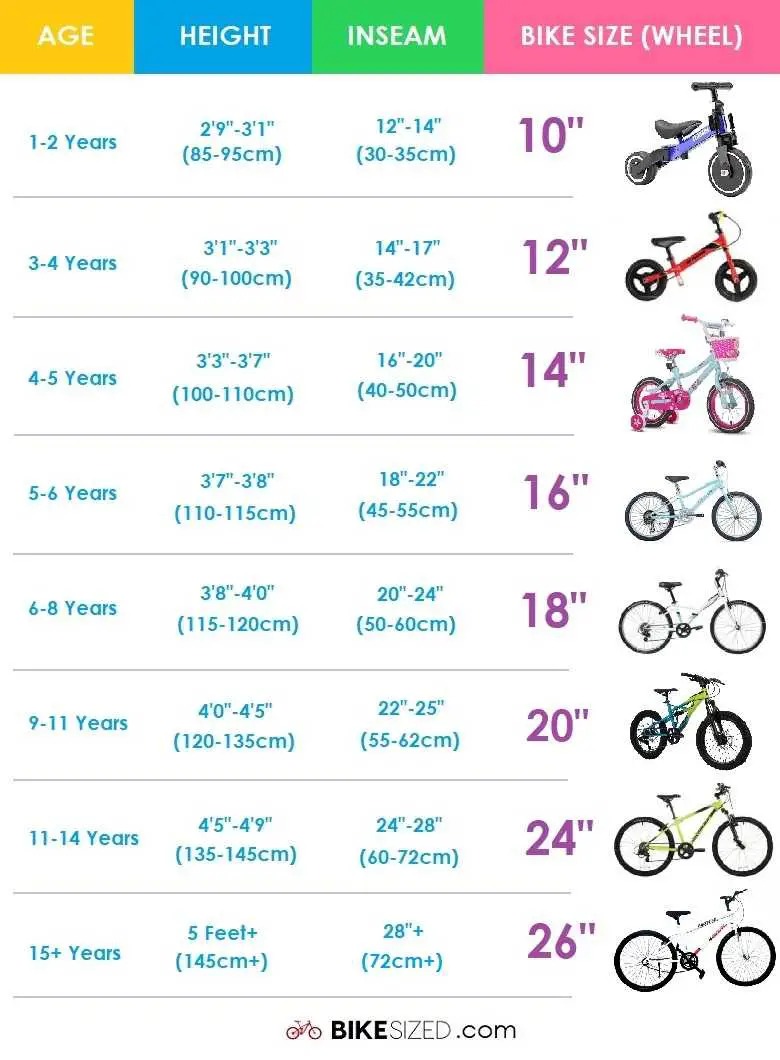 How are kids bicycles measured?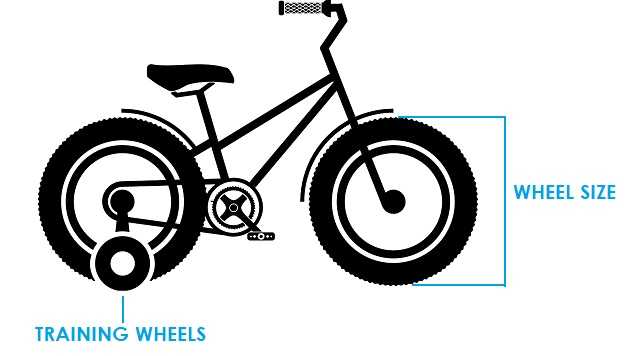 As compared to bikes for adults, kids' bikes are somewhat different in a way. To be specific, they are usually measured by the diameter or size of the wheels. Frame size doesn't exist in this case for a kid's bike.
However, it is important to take the height and inseam of a child into consideration while selecting a bike for them.
How to measure your child's height & inseam?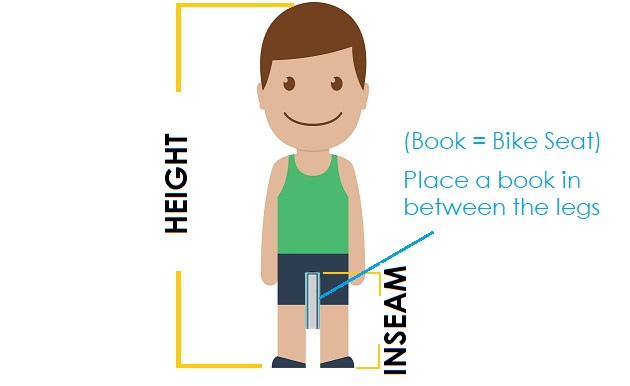 Besides age, the height of a child and inseam are crucial to know what size of bike would suit them. Follow the below steps to measure your kid's height:
Child's height –
Place your kid to stand against the wall, put a book or similar-looking object on top of the head at around 90 degrees towards the wall and place a mark on the wall.
Go to the lowest point of the ground and place a mark.
Measure the overall height from the ground to the mark set on the wall. That is the height of the kid.
I recommended you to measure the height of the kid with bare feet.
Inseam –
The inseam is the distance between the crotch to the leg of a kid. Here's how you can measure the inseam of a child:
Make the kid stand against the wall and both feet close to each other.
The feet should have shoes put on as while riding the bike, generally the shoes are worn. This provides the correct inseam of the kid which incorporates the shoe height too.
Place a book in between the legs of the kid and slide it till it touches the crotch.
The point where the book touches the crotch needs to be marked vertically with a marker.
Use tape to measure the overall inseam from the marked point on the wall to the ground. That is the inseam of the kid.
Types of bike for kids
Kids need to have the right kind of bike when they embark on their new learning journey. I'll categorize these bikes into 5 different types.
1. Balance bikes (Age 1-4)
Balance bikes are the new-age way of learning to ride a bike without the help of a pedal. The riders need to push their feet to keep going ahead, making them accustomed to balancing a bike. This mechanism helps children move on to a bigger bike sooner when compared to practicing via training wheels.
2. Primary pedal bikes – (Age 3-6)
After having experience with a balance bike, the transition to a pedal bike should be smooth for a kid. These bikes are lightweight and provide the little ones with their first experience with pedals. Also, it is a great way to warm up before shifting to a geared bicycle for a kid.
3. Hybrid bikes – (Age 6 & above)
Hybrid bikes are a welcoming change as they let children experience the rush of trails and the seamless roads of city life. These bikes are helpful to let kids tackle different terrains as they are capable of pedaling and balancing.
4. Road bikes – (Age 6+)
Road bikes are known to be flashy and light in weight. These are mostly ideal for city roads and are inclined towards fast pace riding.
5. Mountain bikes – (Age 8 & above)
For kids that want more of an adrenaline rush with off-road riding, mountain bikes are the one for them. Mountain bikes are popular for their disc brakes and well-gripped tires that offer action-packed performance.
What to look for in a kid's bicycle
There are numerous things that a parent should look out for when you're about to purchase a bicycle for your child. Let's check what you need to look for in a kid's bike –
1. Comfort
If the bike is heavy, the kid won't be able to maneuver. Similarly, checking the minimum and maximum seat height and standover height needs to be done to avoid seating problems. Knowing the reach of the kid will put you in a good spot to avoid comfort issues.
2. Balance or with training wheels?
Both are equivalently important for kids learning to ride a bike. Training wheels can be referred to as the old-fashioned way, while balance bikes are the new way of learning. However, I would recommend balance bikes for faster learning.
3. Smaller or bigger size?
A bigger bicycle can make it difficult for the kid to maneuver, hold, and gradually the little one will lose interest in riding the bike. Having a right sized bike is what the kid requires, neither too small nor big.
4. Brakes, weight, & chain guards
The brake levers need to be easily accessible. Many parents prefer coaster brakes as it makes it easy to stop or slow down by pedaling backward.
Do make sure the bike isn't more than 32% of the kid's weight. Kids' bikes are known to be lightweight and they shouldn't add on to make it difficult for them to ride.
A chain guard is a savior as it can protect kids from any injury that can scrap their skin when in contact.
Bicycle safety tips for kids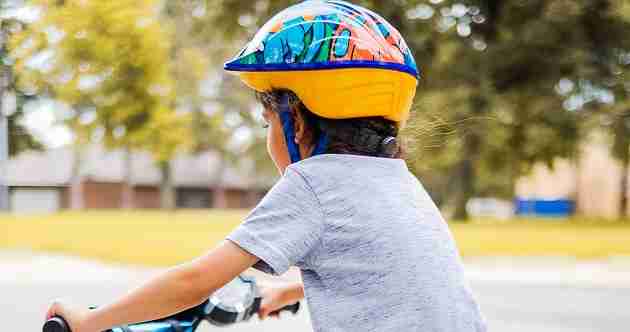 There are some basic safety tips for kids that need to be followed –
Wear a proper-fitted helmet to avoid major injuries.
Try to avoid riding during night hours.
Wear reflective bright colors as people can notice you easily from a distance.
Check whether the handlebars and wheels fit tightly.
Always stop and look at the left and right traffic before riding ahead.
Ride on protected bike lanes where possible.
Put lights on your bikes.
Follow the traffic rules.
Final words
For the little one to take the maximum benefit out of the bicycle and enjoy every ride, parents should choose a right fitting bike. As I have already mentioned above, having proper information about the kid's inseam, height, age, and other related things can really help.
More importantly, do follow the sizing chart above when you are in doubt. Knowledge is power, which is what you should apply when gifting a bicycle to your little one.