There has been a constant banter between experts and bicycle enthusiasts regarding the Huffy vs Schwinn battle. Since they are the two most competitive manufacturers of bikes in the United States, opinions about them are divided among people.
Both companies offer a wide range of bikes for their audience, but they seem to be similar in many aspects.
However, I have noticed that Schwinn bikes are focused mostly on quality and durability too. Huffy bikes on the other hand have more variety in their collection and are budget-friendly too. This isn't enough of a comparison; let's check out in detail who wins it, Huffy or Schwinn?
Huffy vs Schwinn bikes
1. Brand history
Huffy
Schwinn
It goes back to 1887 when George. P. Huffman got hold of the Davis Sewing Machine Company. After a span of 3 years, he shifted the company to Dayton, Ohio. This became the venue for the first-ever Dayton Bicycle being manufactured in 1892.

In 1924 the company was rebranded as Huffman Bicycles, and by 1953 the name Huffy appeared.
Over the years the company has produced a variety of entry-level bikes.
The company was founded by Ignaz Schwinn in 1895, in Chicago. By the 20th century, it was known to be the top-most manufacturer of American bicycles.

It is said that the output went above a million bikes per year by the end of the 20th century, which showed the popularity of its bikes.

After going through bankruptcy in 1992, the company came back stronger, and currently has a list of bikes on offer.
2. Reputation
| Huffy | Schwinn |
| --- | --- |
| Known to be a brand mostly for top-quality entry-level bikes, which are comfortable and light on the pocket. | The company prides itself in producing bikes for people all over the globe. Since its inception, Schwinn has sold around 225 million bicycles in 50 countries. |
3. Technology
Huffy
Schwinn
Most electric bikes have pedal assist mechanisms, dual disc brakes, front-rear LED lights, etc.
Smooth Ride Technology provides better comfort for fitness riders.

(ERT) Energy Reduction Technology helmets are a savior as they can absorb numerous impact types.
4. Components
Huffy
Schwinn
Cruiser beverage holder, smartphone holder, brake pads, brake levers, etc.

Some of the components might be missing when you compare the two, but with a cheaper price tag, the brand does offer fewer unique components.
Coaster brakes, cranksets, handlebar grips, derailleur hanger, disc tabs, etc.
5. Frame material & size
| Huffy | Schwinn |
| --- | --- |
| Aluminum bike frames are used as they are lightweight and provide a better biking experience. | Made up of aluminum frames as they tend to be light and are used widely across various bike categories. |
| Sizes are available for every individual, ranging from 12″ to 27.5″ wheel size (see Huffy bike size chart) | Sizes available for both children and adults, ranging from 12″ to 29″ wheel size/XS to XL frame size (see Schwinn bike size chart) |
Both bike brands offer aluminum frames, so there is little to choose between the two options.
6. Performance
Huffy
Schwinn
They are comfortable going on bike rides, but certain limitations when compared to Schwinn bikes.

Average disc brakes and suspension systems when compared to its counterpart, which affects the performance of the bikes overall.
Provides better performance as they are tailor-made for serious cyclists with top-end components.

You can expect them to deliver better in the long run as compared to Huffy bikes. As they consist of better features, Schwinn bikes are worth the money.
7. Wheels
| Huffy | Schwinn |
| --- | --- |
| 24"-27.5" wheels are mostly used by the brand for adults. | They are sturdy and well built with sizes ranging from 24"-29". |
8. Tires
Huffy
Schwinn
They are decent in quality, but fall short when compared to the likes of Schwinn.
Cruiser bikes: Wide comfort tires are used.

Mountain bikes: Wide knobby tires

Hybrid bikes: Skinny tired is preferred as they provide better speed

Road bikes: Skinny tires
9. Suspension
| Huffy | Schwinn |
| --- | --- |
| Huffy bikes are provided with dual and full suspension, depending on the model. | Same with Huffy. Most of the Schwinn mountain bikes come with powerful suspension forks. |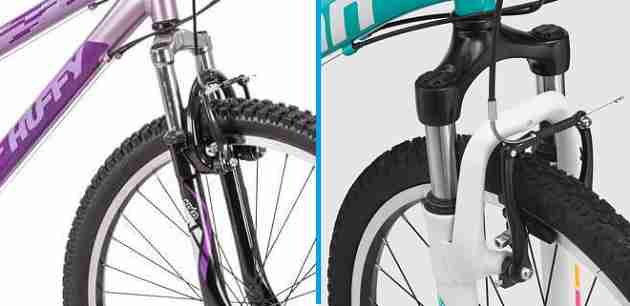 10. E-bike range
| Huffy | Schwinn |
| --- | --- |
| The maximum range you can expect is around 25 miles. Somehow, it falters in comparison to the range of Schwinn bikes. | 45 miles solely on a single charge with a speed of 20 mph. However, to expect that kind of range one needs to lower their speed. |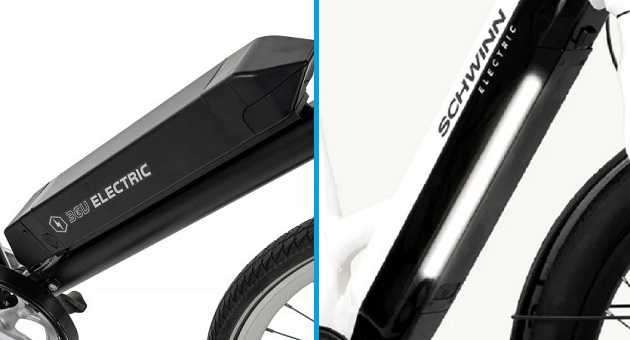 11. Warranty
Huffy
Schwinn
Some of the components that come under a two-year warranty period include a 36V battery, an electric rear-hub motor, and an electric assist quick-control remote panel.

Aluminum frames have a warranty period of 10 years from the day of purchase.

The headset, handlebar, brakes, kickstand, wiring, cassette, lights, and other components receive a 6-month warranty depending on the condition.
Numerous parts like handlebars, seat posts, crank arms, stems, and other related items come under warranty.

Frames of adult and kids' bikes are extensively covered in terms of the warranty.

Additionally, Pedal assist components for e-bikes have a warranty period of two years.

Normal wear parts are provided with a warranty time of 30 days since purchase.

Schwinn as a brand gets a thumbs up for their excellent warranty services.
12. Price
Huffy
Schwinn
Huffy as a brand focuses a lot on affordability, and this is the reason most of its bikes are entry-level.

If you do not wish to spend a hefty amount on a bike, purchasing from the brand seems a good option.
The cost of the bikes is without a doubt on the higher side as they are manufactured with better materials and top-notch components.

They are better-looking bikes as the brand focuses on details rather than settling for less.
It is not budget-friendly in case you are looking for an affordable bike.
Schwinn vs Huffy verdict
This might be a stereotypical conclusion to the battle of Huffy vs Schwinn, but there is no winner from the two in my opinion. Both bicycle manufacturers offer you almost everything you dream of in a bike with a subtle difference.
If you are on a tight budget, I would recommend going for Huffy bikes as they are quite affordable and offer a premium ride with a gigantic list of entry-level bikes. On the other hand, Schwinn might be the answer for those looking for all-round bikes with a wide range of them to pick from as per preference.
Also, they are known to be of exceptional quality with impressive features. If I have to pick one, it has to be Schwinn.
What's your answer?