Hey, cycling enthusiasts! Finding the ideal bicycle seat can make all the difference in terms of riding experience. Isn't it? For individuals who enjoy extra cushioning and support, finding the right, comfortable plus-size bike seats is essential for the long term.
It does not matter whether you are into daily commuting or prefer biking on the weekends; a comfortable seat can change your ride from an uncomfortable experience to a smooth adventure. In this guide, I have gathered the best possible options that focus on comfort and durability.
Let's get ready to explore the ideal bike seats tailor-made for the plus-sized females and males out there.
Best plus size bike seats for women/men
1. YLG Oversized Comfort Bike Seat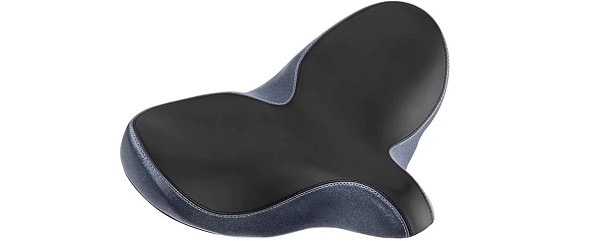 It is a game-changer for bike riders looking for a plush and supportive cycling experience. These bike seats are focused on comfort and ergonomics, and to cater those who value a bit of extra room. The dimensions of the seats offer a lot of space, which in my opinion makes it an automatic choice for overweight riders or people looking for a roomier saddle.
| NOTABLE FEATURES | WHY I LIKE |
| --- | --- |
| Dual Shock Absorbers | The seats consist of dual rubber ball suspension under the rails. This addition seamlessly absorbs shocks and road bumps, leading to an ultra-smooth bike ride. |
| Universal Fit | The bike seat is universally compatible with almost every standard seat post, which makes it a top pick for mountain bikes, road bikes, and other bikes too. |
| Ample Dimensions | The YLG bike seat has a spacious design that offers a bigger and wider seating area when compared to other bike seats. Having extra room to move while riding a bike makes it 10x times easier to sit, resulting in better overall support and a reduction in pressure points. |
| Memory Foam Padding | The bike seat has high-density memory foam cushioning that molds to the contours of the body, giving a custom feel to the rider. Apart from comfort, it also absorbs vibrations and shocks while riding on difficult terrains. |
| Effortless Installation | Installing the YLG bike seat is dramatically easy. It is accompanied by a straightforward installation manual and tools that make things uncomplicated to get ready for your ride. |
2. Giddy Up! Wide Padded Bicycle Saddle
As flashy as its name, the bike seats from the brand is a top-tier choice for bigger individuals. Giddy Up offers exceptional support and comfort that is engineered in a way that keep certain needs of bike enthusiasts. Additionally, what impresses me is that the saddle provides a blend of performance and comfort for heavy bike riders.
| NOTABLE FEATURES | WHY I LIKE |
| --- | --- |
| Sturdy Construction | Giddy Up! seats are made with a strong synthetic leather cover that is water-resistant and it is durable too. This means that the seat can meet the demands of heavier riders and different weather conditions. |
| Wider & Comfortable Bike Seat | A majority of the riders have rated the bike seat highly for its extra wide size, as it brings in a lot of comfort. Moreover, there is a steel spring suspension, extra padding, and a large size that makes it an instant choice for cyclists. |
| Universal Compatibility | It does not matter what bike you are riding, Giddy Up bike seats fit a long list of bike models, thanks to its design. Also, it offers versatility to plus-size riders looking for comfort on numerous bikes. |
| High-Density Gel Foam Padding | The bike seats are cushioned with high-density gel foam which has the capability of reducing pressure points, and improves overall support for overweight riders. |
| Adapts to Body Shape | Thanks to its unique design, the wider-sized bike seat adapts accordingly to your body. This is somewhat amazing for anyone wanting to have the ride of their life. |
3. TONBUX Comfortable Bicycle Seat
The third on the list is a spectacular bike seat brand. TONBUX bike seat is a godsend for heavier riders looking for comfort and extended support during cycling. Designed specifically keeping in mind the needs of larger cyclists, this saddle from the brand is a must-have.
| NOTABLE FEATURES | WHY I LIKE |
| --- | --- |
| Allows Circulation of Buttock | The Airflow vent situated in the middle allows circulation of the buttock, bringing in faster airflow and heat dissipation to keep riders comfortable throughout the bike ride. |
| Wear- Resistant & Anti-Scratch | The microfiber artificial leather does not accumulate scratch easily and it is wear-resistant too. |
| Dual Shock Absorption | Similar to the above-mentioned bike seats, TONBUX offers shock and vibration resistance during rides. This is an imperative feature that all bike seats need to have. |
| Easy Installation | Installing this wider seat is a piece of cake with a super-helpful manual for the entire process. Once it is mounted, you will be ready for your ride in a flash. |
| Offers Comfort & Protection | Comfort is a necessity among bike riders, and to acquire that you need a bike saddle that is big enough to provide protection and comfort. This is where the wider bike seats from TONBUX have it all to protect against cycling pain and also provide comfort while you ride a bike. |
4. Bikeroo Oversized Bike Seat
If you have big bums and love to go for long rides, having a comfortable seat is certainly imperative. Bikeroo bike seats are known to have ample soft padding and cushioned surfaces for your bike ride. Due to its ergonomic shape, it lets users for an enjoyable pedaling motion. Whether it is a leisure ride or challenging trails, the seat will keep big cyclists comfortable throughout the adventure.
| NOTABLE FEATURES | WHY I LIKE |
| --- | --- |
| Versatile | A key feature of the Bikeroo bike seat is that it is universally mountable with the adapter included, which makes it compatible with a list of bikes. This signifies that you can switch the bike seat between lists of bikes without any kind of issue. |
| Durable | Durability is a must when you plan to purchase a bicycle. Similarly, the bike seat from the brand provides long-term durability. This in turn helps you to save costs as it does not need to be replaced in regular intervals. |
| Universal Mount | This allows easy compatibility with different indoor bikes like Peleton Bikes. |
| Package Composition | Apart from durability and comfort, these bike seats offer valuable extras. It includes a rain cover, bike seat adapter, mounting tools, eBook, and an option to choose the seat with elastomeric springs. |
Plus-size bike seat for big bums – things to look for
After all the detailed information, it is time for my assessment. It is paramount to have a comfortable bike seat for the long run. Heavier individuals need to keep a few things in mind while looking for their ideal bicycle seats. Here they are –
| Features | Description |
| --- | --- |
| Width & Design | Go for a seat with an extra-wide design with basic ergonomics. This lets users have enough room and balanced weight distribution. |
| Quick Installation | Do look out for a seat that is equipped with tools and a manual for an easy setup process. |
| Universal Fit | Make sure the seat is compatible with numerous bikes. Some of the examples are Mountain Bikes and Road Bikes. |
| Padding & Material | Opt for gel padding or even high-density memory foam. Such materials adapt to your body shape and offer superior cushioning. |
| Shock Absorption | Dual suspension springs have the capability of absorbing shocks while riding. |
| Durability | Having a weather-resistant cover can mean the bike seat can have a longer life. |
Additional points:
Versatility is required – Ensure compatibility with numerous bike models.
Easy Setup – A seat with a manual and tools simplifies the entire process.
Comfort – Emphasize wide and ergonomically designed seats for a comfortable experience.
Recap
After going through a list of these bike seats, I'm convinced that you cannot compromise on comfort to have a fun bike ride. Ranging from YLG, TONBUX, and Bikeroo, all these bike brands have the finest plus-size bicycle seats and they all excel in offering shock absorption that is required mostly for riders.
Purchasing one of these is highly recommended, especially for bigger-sized people. Make the right choice according to your preferred bike seat and embark on your biking adventure.