Strider balance bikes seem to very popular these days with the brand dominating the market of bikes for toddlers and children, selling over 1.5 million units so far. If you are planning to gift one to your kiddo, then don't get a wrong bike by choosing the wrong size. Strider bike sizes vary according to age, height and inseam of a child.
Simply put, Strider offers bicycle in three sizes – 12″, 14″, and 20″, and you have to pick one among them as per your kid's inseam length.
Remember, kid's bicycles are measured using the wheel size. So, the numbers here refer to the diameter of the wheels in inches.
Measure your kid's inseam first
Children grow differently with different body structures and leg length. Thus, an inseam is more critical than height when deciding the correct wheel-size. When you have a perfect fit bicycle, your little one will learn faster, have more confidence, and enjoy biking around.
But, what is inseam? Easy call, distance from the crotch to the ground with shoes on.
Below is how you measure your kid's inseam –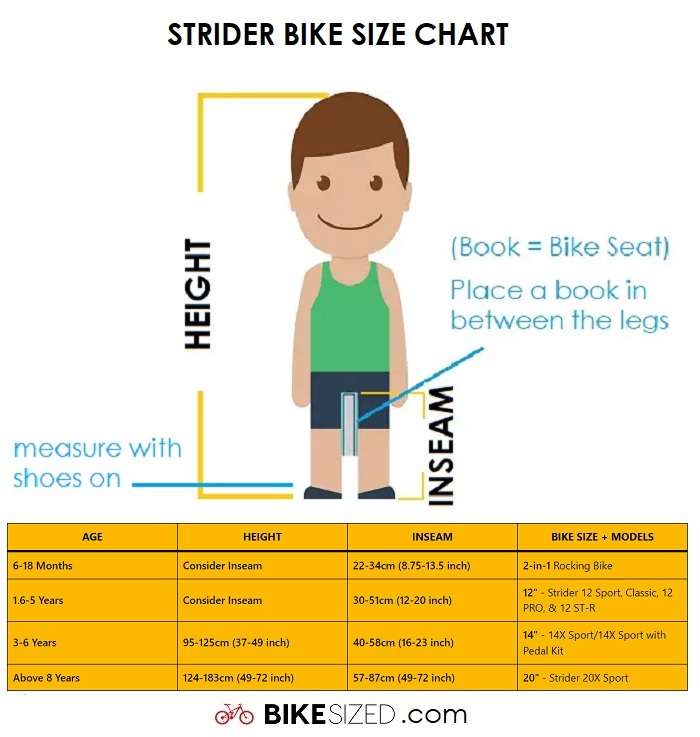 Strider bike sizes by height, age, and inseam chart
| Age | Height | Inseam | Bike Size + Models |
| --- | --- | --- | --- |
| 6-18 Months | Consider Inseam | 22-34cm (8.75-13.5 inch) | 2-in-1 Rocking Bike |
| 1.6-5 Years | Consider Inseam | 30-51cm (12-20 inch) | 12″ – Strider 12 Sport, Classic, 12 PRO, & 12 ST-R |
| 3-6 Years | 95-125cm (37-49 inch) | 40-58cm (16-23 inch) | 14″ – 14X Sport/14X Sport with Pedal Kit |
| Above 8 Years | 124-183cm (49-72 inch) | 57-87cm (49-72 inch) | 20″ – Strider 20X Sport |
Strider Classic vs Sport vs Pro: differences

Below are the differences between 12″ Strider Classic, Sport, and PRO –
| 12″ STRIDER CLASSIC | 12″ STRIDER SPORT | 12″ STRIDER PRO |
| --- | --- | --- |
| Recommended age – 1.6-3 Years, inseam – 30-43cm | Recommended age – 1.6-5 Years, inseam – 30-51cm | Recommended age – 1.6-5 Years, inseam – 30-51cm |
| Seat type – plastic | Seat type – padded | Seat type – padded |
| No handlebar pad and has standard grips | Comes with handlebar pad + mini grips | Has safety pad handlebar with mini grips |
| Requires tool to assemble and adjust the handlebars | Needs no tool for assembling and adjusting the height | No-tool assembly |
| Steel frame and weighs 6.5 lbs (2.9kg) | Steel frame and weighs 6.7 lbs (3kg) | Aluminum frame and weighs only 5.6 lbs (2.5kg) |
PROS of Strider balance bikes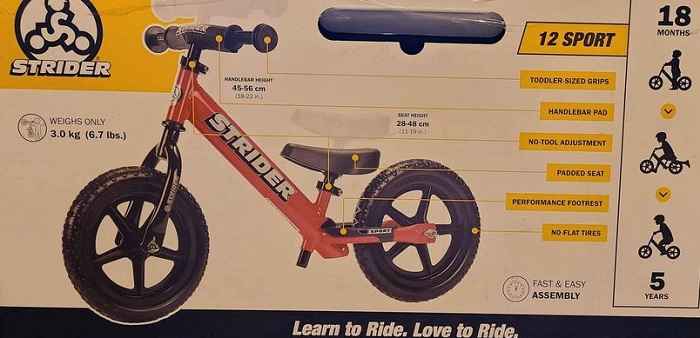 During our childhood, we used to learn riding with a bike with training wheels. That's not happening with the kids these days. Most of them are starting with balance bikes for the many benefits they get as stated below:
Builds up the ability to balance and explore from younger age
Learns to steer and move around faster
Makes cycling more fun and enjoyable
Balancing, moving, and controlling – fun way of exercising outdoor
Know all the basic skills of riding – sitting, standing, balancing, gliding, running, stopping, etc.
When shifting to actual bicycle, they'll learn to pedal in a couple of hours/days
People also ask
What age is the Strider 14x for?
Strider 14x is for children in the age group of 3-7 years. You can convert 14x to pedal bike once your kid masters in balancing. You have to buy the pedal kit and stand separately though.
How tall is a Strider 14x rider?
Strider 14x is suitable for a rider with approximate height of 95-125 cm (3'1″-4'1″).
How much a Strider 14x weighs?
Strider 14x weighs about 12.5 lbs without pedal kit and it can support riders weighing up to 80 lbs.
Can a 1 year old ride a Strider bike?
Kids between the age of 6-16 months can ride a Strider Sport 2-IN-1 12″ Rocking bike with base. You can remove the rocking base once he/she turns 1.6 years.
Is Strider the best balance bike?
According to some experts and NY Times, Strider 12 Sport is considered as the best balance bike. Strider bikes are light, strong, durable, easy to assemble, and have right geometry. WOOM 1, Cannondale Trail, RoyalBaby Buttons, and Banana Bike LT are some of the best balance bicycles you can consider too.
What is the difference between Strider 12 and 14?
Strider 12 has 12″ wheel size and is for kids aged 1.6-5 years, while Strider 14 has 14″ wheel size and is for children in the age group of 3-6 years. Another difference is that you can add pedals on Strider 14x, but you can't do the same with Strider 12.
Recap
Strider is a market leader when it comes to balance bikes. If you are a parent and thinking of getting a bicycle for your little one, I recommend you to get a Strider balance bike. But, don't forget to select the right size bike. Otherwise, your son or daughter may feel uncomfortable riding and lose the interest of biking forever.
Strider offers bicycles for kids of every age group. So, know your child's inseam first and select the size/model that suits his/her body structure and height.
Once they know the art of balancing and steering on balance bikes, they'll easily graduate and transition in to pedal bicycles in no time.