If you are looking for a budget kid's bicycle with thousands of positive reviews online, then a RoyalBaby Freestyle Kid's Bike should be a good choice. The brand offers bikes for boys and girls in different sizes and models. So, picking a right sized one according to your child's height, age, and inseam is necessary. Let's have a look at the RoyalBaby bike size chart below. Also, we will get into five of the popular models you may consider.
As a popular brand, RoyalBaby focuses more on children's bicycles and accessories and they are widely available in number of countries worldwide. But, let me be honest here. Do they manufacture the best bicycles for kids? No. However, considering their price and the services they provide, a Royal Baby bike won't disappoint you.
RoyalBaby bike size chart
As of now, a RoyalBaby bicycle comes in five different sizes for every age group – 12″, 14″, 16″, 18″, and 20″. The bikes are also categorized as boys bike, girls bike, balance bike, and bike with training wheels.
Remember to measure your kid's height and inseam first. And, consider the height more seriously than the age to get the ideal fit. Also, if your child's height fall into two size categories, I suggest you to go with the bigger size as it may probably last longer. In the beginning, the smaller size would be more comfortable to your little one though.
Below is the RoyalBaby sizing chart. Do check out the geometry and sizing of the particular model as well. It may slightly vary.
| AGE | KID'S HEIGHT | WHEEL SIZE | SADDLE HEIGHT (ADJUSTABLE) |
| --- | --- | --- | --- |
| 3-4 | 33.5″-37.4″ (85-95cm) | 12 inch | 17″-21″ |
| 3-5 | 37.4″-45″ (95-115cm) | 14 inch | 19″-24″ |
| 4-7 | 41.3″-53″ (105-135cm) | 16 inch | 21″-26″ |
| 5-9 | 45″-59″ (115-150cm) | 18 inch | 22″-28″ |
| 7 plus | 53″-65″ (135-165cm) | 20 inch | 24″-30″ |
Related – Kids Bike Size Chart
RoyalBaby bike reviews – 5 best models
1. RoyalBaby Freestyle Kid's Bicycle Series (for boys & girls)
Inspired by BMX bikes, the RoyalBaby Freestyle Bike series boast of its sporty looks and comes in variety of sizes and colors. It is equipped with strong steel frame and ensures high durability.
The RoyalBaby Freestyle Bikes are easy to assemble and they come with training wheels (12″, 14″, & 16″), large tires, and wide pedals.
The hand brake and coaster brake compromise a bit on quality and performance. Also, the bicycle might be little heavy or tall for some children. However, it is still better than most of the cheap Walmart bikes for kids.
| PROS | CONS |
| --- | --- |
| Has both coaster and caliper brakes | Saddle height seems to be little high |
| Mostly preassembled – rest you can easily assemble it | |
| Enclosed chain guard for safety purpose | |
| Comfy seat/saddle with holder | |
| High-quality, durable frame | |
2. Star Girl
This is another uniquely designed bicycle, especially for girls. It looks cute with colorful and fashionable printings. This model comes with a basket and bell, which your little one would definitely like. My daughter is always excited about putting her toys in the bicycle's basket, even when she doesn't go for a ride. So yeah! the basket is a bonus here.
Like the above freestyle model, the 12, 14, and 16 inch bikes have training wheels. Here, I would like to mention that a balance bike is always better than a bike with training wheels for the first-time learner.
| PROS | CONS |
| --- | --- |
| Everything about this bicycle is so cute | Slightly weighty for the little ones under five |
| Curved/stepover frame for the girls to easily hop on and hop out | |
| Double braking system | |
| Hi-ten steel frame | |
| Proper stability and balance – 2.4-inch tires with wider supporting wheels | |
3. Jenny Princess
This one has similar features with the above model but with different design and printings. Yes, it comes with a basket, two brake systems, and adjustable height seat. Of course, the bike is cute, stylish, and priced really cheap. Not a bad gift for your little princess!
Made of hi-ten steel, Jenny Princess Kid's Bike has a chain guard and comes in three colors and five sizes. The drawback – I found some users complaining about the bike geometry not matching with the child's body structures. The seat might be too tall for some. That's why, measuring your kid's height is really crucial for deciding the ideal size.
| PROS | CONS |
| --- | --- |
| Girly design with front basket and bell | Saddle height not suitable/comfortable for some tiny riders |
| Well-built bicycle | |
| Assembling is quite fast and easy | |
| Has better quality than other similarly priced bicycles | |
| Offers smooth and stable riding on paved surfaces | |
4. RoyalBaby Buttons/Honey Kid's Bicycle
A bicycle with single tube? Yes, these two models stand out because of their design with cubic tube. The rest of the features are quite identical with the above models. Both Buttons and Honey bikes come with wide tires (2.4″) which increase the comfort and traction while riding.
You can adjust the handlebars and seat height as well. Also, the seat has a handlebar for the parents/grandparents to provide support and navigation while learning. What else? It's easy to assemble, has front caliper brake and rear coaster brake for extra safety, and ensures high durability. This unisex bike comes in six colors and five sizes. Drawback – bit pricey?
| PROS | CONS |
| --- | --- |
| Unique design with cube tube – suits both boys and girls | Expensive |
| Different components (kickstand, training wheels, & brakes) as per wheel sizes | |
| Most parents are satisfied with the bike (as per online reviews) | |
| Fat tires for extra stability | |
5. Space Shuttle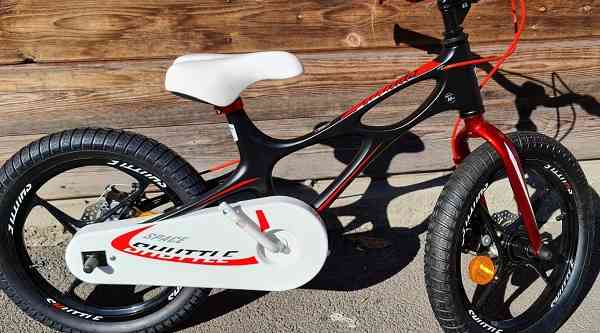 Unlike the rest of the above models, the RoyalBaby Space Shuttle kid's bike has a magnesium frame and comes with mag wheels. This makes the bicycle lightweight, sturdy, and more durable. The 14″ size weighs around 19 pounds, which is little lighter than the other models I reviewed above.
Space Shuttle's front and rear disc brakes ensure extra protection and will improve your child's riding confidence. The wider tires provide good grip on slipper surfaces, and also give better balance and control to the beginners. It's a high-end model from the brand, so definitely it's little expensive than the rest.
Space Shuttle is available in three sizes (14″, 16″, and 18″) and colors (purple, black, and white).
| PROS | CONS |
| --- | --- |
| Powerful braking performance | Pricier than other hot-selling Royal Baby bicycle models |
| Top-notch model with anti corrosive paint | |
| Sporty, premium look with great paint finish and magnesium spokes | |
| Large tires – provide improved traction, more comfort, and stability | |
Further reading – Best Bikes For 5 Year Olds
In conclusion
Your child's height may differ as per the age, so focus more on the height than the age while selecting the correct bike size. The above sizing guide and RoyalBaby bike reviews will give you a fair idea on which wheel size and model you should pick. Remember to go through the specs of the particular bike you are buying.
A RoyalBaby kid's bike is a great option for parents who are on a budget and looking for a bicycle with training wheels.