Kent is known for producing one of the cheapest bikes in the market. They have a huge collection of products that include cruiser, road, gravel, mountain, BMX, hybrid, comfort, kid's, and electric bicycles. Currently, they have 250 plus bicycle models available in different sizes and price tags, starting from $69 to $899.
But, are Kent bikes good? The answer is a YES or NO. For beginners and recreational riders who are extremely tight on a budget, Kent bikes are worth the money. For elite pros who are looking for performance and speed, it's absolutely a big NO.
Having said that, Kent has some bicycle models which an experienced rider can consider too. For example, the Kent Trouvaille hardtail MTB offers awesome features at an affordable rate, and is quite popular among pro riders. Kent bikes are anyway far better than most departmental store bikes.
Overview of the company

Kent International's roots date back to 1909 when Abraham Kamler, the founder opened his bike repairing shop in New York city. And the rest is history. Till now, Kent is a family owned company with Arnold Kamler as the current CEO. In 2020, Kent sold more than 2.5 million bicycles in the United States, which made it one of the top bicycle manufacturers in the world.
The brand focuses on making bikes that are affordable to the general population. They import most parts from China and other Asian countries, which make it possible for them to sell their products at dirt cheap prices. You'll find Kent bikes widely available in Walmart, Target, and many other local stores.
Kent bike lineup
Kent bike lineup consists of 10-11 different bicycle types and categories with variety of models –
Mountain – Trouvaille, Genesis, Vallaro, Flexor, Giordano Intrepid/Valor, Ozark Trail, Northstar, Takara Nobu, Tracer, Airflex, Shogun etc.
Road – Nazz, Road Tech, Takara, GZR 700
Cruiser – BCA Charleston, Big League, Bayside, Seachange, Margarittaville, Innsbrug, La Jolla, Del Rio, Rockvale, Kiawah, Oakwood, Baywood etc.
Comfort – Avalon, Retro, Ridgeway, 700c Monte Vista, Ashbury, Glendale, Wanderer, Avondale, Eastsport etc.
Hybrid – Monte Vista, 700c Retro, Crosstour, Belle Aire, Front Runner, Shogun Safari, Providence etc.
Gravel – Dirt Runner, Eagle Ridge
Specialty/Tricycle – Monterey, Westsport, Kazam, Dual Drive, Nova, Alameda etc.
Electric – Baywood e-bike, Ridgeport e-bike, 27.5″ Valkyrie e-bike etc.
BMX/Freestyle – Trouble, Kent 2 Cool, Ambush, Rage, Dread, Incognito, Chaos, Tempest, Fantasy, Nightmare, Black Hole, Ranger, Surreal, Octane, Razor
Kid's – Kazam Neo/Tyro/Bolt, Radio Flyer, Mila, Papa Pig, Furrtastic Kity, Jurassic World Dino, Dino, Wildstyle, Sweetness, Dread, Street Racer, Sparkles, Hello Kitty, LittleMissMatched, Twinkle, Lucky Star, Love Bug, Starline, Star Shine, Star Dream, La Jolla, Cup Cake, Fantasy, Spoiler, Love etc.
26″ KZ2600, Bayside, Starlite, Avalon, and Trouvaille are some of the best selling models of Kent International.
Kent bike PROS and CONS
Kent has been selling bikes like hot cakes and their bicycles are loved by many novice riders. But, they have a very bad reputation among the pro cyclists. Why? Let's look at the advantages and disadvantages of Kent bicycles.
| THE GOOD | THE BAD |
| --- | --- |
| Highly affordable – Kent manufactures dirt cheap bikes that are affordable to all. You'll get an adult bike as cheap as $169.99. | Poor-quality materials/components – To reduce cost, Kent compromises on quality of the materials and parts used in their bikes. Thus, less durability if not maintained with care |
| Good option for the beginners – for casual riding on paved surfaces, biking around the neighbourhood and for side-walks, Kent bikes are worth the money | Not for serious riders – Kent bikes consist of entry-level components and are not performance focused. So, a big NO for the experienced cyclists. |
| Variety – There are 265 bicycles currently sold on their official website. This is excluding the ones found on Amazon and Walmart. | Poor assembly – I've noticed that most users complain about their bikes not properly assembled, resulting in creaking wheels & pedals, stuck seat, chains falling off frequently, etc. |
| Bicycle types – From electric, MTB, cruiser to kid's bicycles, Kent offers bikes for all types of rider | |
| Reliability & warranty – Kent has been around for more than 100 years. So, you know you are buying a bike from a well-known brand. Also, they offer great warranties on their products. | |
| Availability – Kent bicycles dominate the market and they are widely available in department stores, Walmart, etc. | |
Kent bike reviews
Kent International has been around for decades and has sold millions of bicycles. Some of their bicycles are excellently engineered on a par with high-end bikes from other brands. Here are three best Kent bikes you can consider:
1. Kent Trouvaille 29″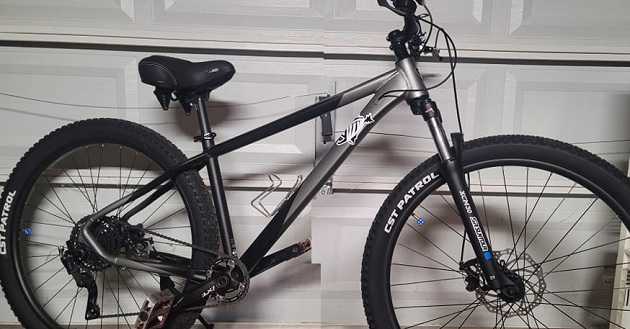 Priced around $400, Kent Trouvaille is a hardtail MTB and it receives good reviews from most professional bikers. 29″ Trouvaille is loaded with high-end features, such as modern geometry, light aluminum frame, SR Suntour XCM Fork (cross-country) with lockout and preload, front & rear disc brakes, 29″ x 2.40″ fat CST Patrol XC Tires, and alloy wheels.
Trouvaille is a real MTB and unlike many other Walmart bikes, this one is trail ready. With some adjustments and upgrades, you can even hit on wide variety of off-road and uneven terrains. The wide handlebars (760mm) make the bike really comfortable and easy to control and keep the bike on target.
The bad – also, as pointed out by some experts, I find that Trouvaille has a chain routing issue, lose grip, and the kickstand is horribly designed. If assembled carefully by a bike mechanic, this MTB can definitely compete with other expensive MTBs.
Summing up, I would say Trouvaille ticks all the boxes and it is a good MTB, considering the price. If ridden with care and at the designed places, this MTB will last for years.
2. Kent Northpoint (24″/26″ wheels)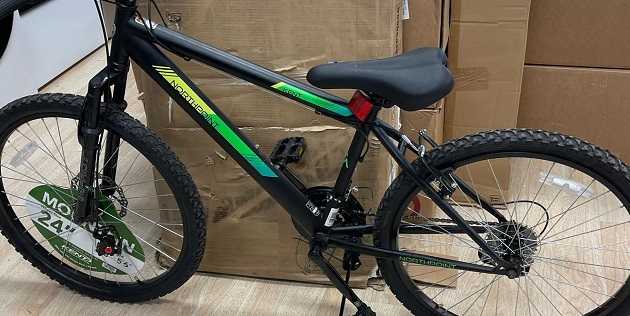 Kent Northpoint is probably the most affordable youth and women's bike in the market right now. It's currently sold at $109.99 (on the time of updating this article). Northpoint 24 and 26-inch wheels mountain bike has step-thru design with steel frame.
This girl's/women's bike come with front suspension fork, front disc brake, adjustable seat post, Twist Shifter, padded saddle, 21 Speed Drivetrain, aluminum wheels, and knobby tires. Northpoint 24″ is suitable for 4'6″ – 5'6″ girls while 26″ is ideal for age 13+ riders who are in the height range of 5'3″ – 6'0″.
As it's made of low-grade components, I doubt Northpoint would be suitable for riding on rocky and hilly areas. For teenage girls and women who would like to explore the neighborhood and have fun, it isn't a bad choice.
Nothing impressive about this bike when it comes to performance and quality, but not bad either if we talk about affordability.
3. Kent Starshine Bike for girls (16-inch)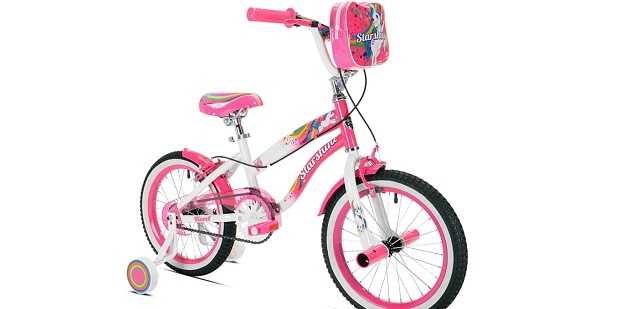 Kent International's kids bike lineup is huge, offering 110 plus products in different sizes and colors. They have bicycles for kids of every ages, be it a balance bike or the one with training wheels.
For parents who are looking for a girl's bike with removable training wheels, Kent Starshine is a great choice and also it doesn't cost much. The 16″ model fits girls aged 4 to 6 with inseam length of 16″ – 22″. Starshine is cute and it comes with unicorn printing, front bag, adjustable seat post, tig-welded steel frame, dual hand brakes, fenders, and even front pegs.
The downside – Kent Starshine lacks quality, pedal adjustment issue, and it's slightly heavy and misaligned. I officially won't recommend my readers to purchase this bike as there are a lot better alternatives out there. Get it only when you can't go over $150 for a 16″ kid's bike.
Verdict: is Kent a bike brand?
For casual and weekend riders – YES; for experienced cyclists – NO. Kent's bike lineup is huge and they make all types of bikes in different categories, all priced under $899. All Kent bikes are budget-friendly, indeed they are very cheap, and that's one of the reasons why the brand is able to sell millions of bikes every year. Kent International is among the top bike manufacturers in the US and their bicycles are absolutely better than most Walmart and department store bikes.
Kent alternatives – Schwinn vs Huffy Bikes